Bulldog seniors run home course one last time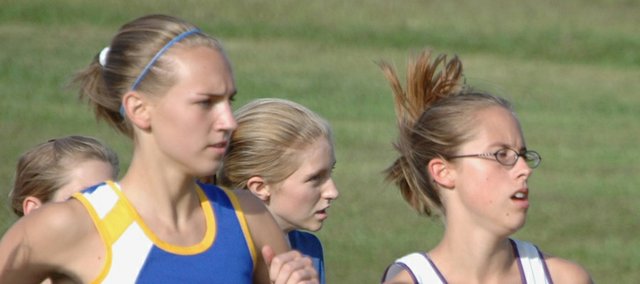 For four years now, seniors Jarrod Bechard and Gelia Gardner have been representing McLouth High as cross country runners.
The Bulldogs did so on their home course for the final time on Thursday as they and their four MHS teammates played host to 11 other schools and more than 130 runners.
"Last year I was the only girl running, so I'm kind of used to being outnumbered by everyone," Gardner said, noting that she is happy to have freshmen Brittany Schuman and Caroline Overbaugh competing with her for McLouth.
With only three boys and three girls, MHS didn't have enough runners to score as a team at its own event, but that didn't stop the runners from giving it their all. MHS coach Jamie Noll said all six Bulldogs ran their best times of the young season at home.
"I was extremely proud of and pleased with the entire team at our meet," Noll said. "Last year it (the home race) was one of the worst meets we ran all year, so before Thursday I told the kids I expected a lot more from them and they certainly delivered."
The top finisher for McLouth was sophomore Derek Wright, who was the 32nd runner to complete the boys 5K run, doing so in 20:08.
Bechard said even though the boys can't score points as a team, they still root for each other to do well as individuals and noted that, with Wright's ability, the two play off each other on the course.
"He's a really good runner and we push each other to do the best we can," Bechard said.
Schuman was the first girl from MHS to cross the finish line, taking 40th in the 4K with a time of 21:15. Bechard and Gardner both finished 44th in their respective races. Bechard finished in 20:48 and Gardner in 21:24.
Noll was pleased with both of her seniors.
"Jarrod ran his best time in his four years of high school at our meet and I know he was extremely happy about that," she said. "Gelia also ran a great time and her fastest (time) of the year. With this being our home course, I told them they had the experience to do well and they did."
Bechard said he was a little nervous at the start of his last home race, but said the best part of having a home meet was the moral support from all the MHS teachers and students there.
"You want to do the best that you can for them," he said.
McLouth's other two runners, freshmen Kurtis Wampler and Overbaugh finished 67th and 50th, respectively. Wampler ran the 5K in 23 minutes and Overbaugh completed the 4K in 21:47.
Gardner said she was a little sad to have run the MHS course for the final time but was happy that Schuman and Overbaugh were there running it with her.
"They're really coming along. They're doing a lot better than I thought they would," she said, explaining that cross country can be a difficult sport for newcomers.
Notable finishes
Tonganoxie sent several of its junior varsity runners to compete at McLouth on Thursday. Nicole Gersbeck finished 36th in the 4K with a time of 20:45. Matt Titterington, 24th, completed the 5K in 19:47.
Jeff West's Taryn Brees tied her own course record in the girls 4K with a time of 16:31.
Girls 4K
Team Scores
1. Christ Prep, 29; 2. Kansas City Christian, 59; 3. Jefferson West, 82; 4. Royal Valley, 83; 5. Silver Lake, 141; 6. Jefferson County North, 144; 7. Doniphan West, 154; 8. Tonganoxie, 194; 9. Pleasant Ridge, 221.
Individual Results
1. Taryn Brees, JW, 16:31; 2. Lauren Meinke, CP, 17:49; 3. Elizabeth Grubbs, CP, 17:52; 4. Susanna Grubbs, CP, 17:53; 5. Kristin Tippis, KCC, 17:56.
Area Results
36. Nicole Gersbeck, THS, 20:45; 38. Sarah Williams, THS, 21:04; 40. Brittany Schuman, MHS, 21:15; 43. Lindsey Cox, THS, 21:23; 44. Gelia Gardner, MHS, 21:24; 49. Ashley Kotowske, THS, 21:46; 50. Caroline Overbaugh, MHS, 21:47; 54. Melissa Hughes, THS, 22:03.
Boys 5K
Team Scores
1. Christ Prep, 53; 2. Silver Lake, 80; 3. Kansas City Christian, 99; 4. Royal Valley, 122; 5. Wathena,128; 6. Jefferson County North, 129; 7. Jefferson West, 133; 8. Pleasant Ridge, 160; 9. Doniphan West, 225.
Individual Results
1. Jerod Barker, SL, 16:57; 2. Kyle Gillett, CP, 17:05; 3. Cody Miller, WHS, 17:58; 4. Peter Ruby, SL,17:59; 5. Adam Pineau, PR, 18:17.
Area Results
24. Matt Titterington, THS, 19:47; 32. Derek Wright, MHS, 20:08; 35. Patrick Rachford, THS, 20:17; 39. Brady Field, THS, 20:27; 44. Jerrod Bechard, MHS, 20:48; 53. Cooper Gish, THS, 21:27; 67. Kurtis Wampler, MHS, 23:00.