Chieftain cross country squads both finish 9th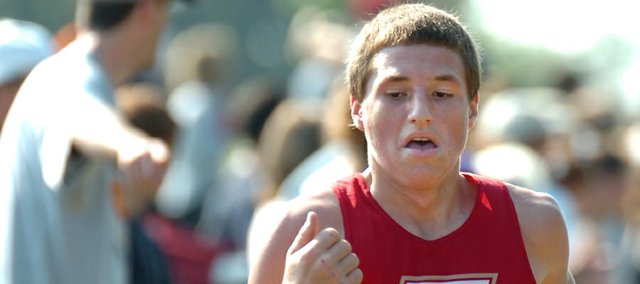 The Tonganoxie High cross country teams, running in their biggest meet to date on Saturday morning at the Bonner Springs Invitational, both finished ninth in team points at their third event of the season.
That fact, according to Chieftains coach Phil Williams, was either a good thing or a not so good thing - depending on which team you were talking about.
"I was very proud of our boys team," Williams said. "Not only was Matt Brock out, but David Powell ran on a very sore ankle and Caleb Himpel had a tight hamstring. Even so, they were very competitive, beating (Bishop) Miege and several other schools."
Conversely, the coach expected more from his THS girls.
"I wasn't as impressed with our girls' performance," Williams went on to say. "Andie Jeannin ran very well, but I think the rest of our girls lost touch with her and allowed much too big a gap between our first and second runner. That is easy to do in a race that big, but they have to learn to keep closer."
Without their normal pacesetter, Brock, the Chieftain boys' top runner on Saturday was Joel Dunning, who ran the 5K course in 19:04. Two of his teammates - Dalton Lawson (35th) and the injury-hampered Powell (48th) - also finished in less than 20 minutes.
Williams called Dunning's performance his best this year while also noting the improvement of senior Tommy Heskett (63rd, 20:22) and first-time varsity runner Keith Slater, who finished two seconds behind Heskett.
As usual, Jeannin, who finished ninth in the 4K with a time of 17:09, led the THS girls. Lauren Hall, 34th, Alex Hauk, 40th, and Addy Phelps, 43rd, all finished in less than 20 minutes, but Williams thought there was too large a gap between the team's fourth and fifth runners.
"There were several teams we should have beaten," he said, "but we didn't."
Girls 4K
Team Scores
1. DeSoto, 56; 2. Olathe Northwest, 59; 3. Lansing, 101; 4. Bishop Miege, 126; 5. Maranatha, 150; 6. Pittsburg, 172; 7. Mill Valley, 178; 8. Basehor-Linwood, 185; 9. Tonganoxie, 192; 10. St. James, 204; 11. Bonner Springs, 359.
Individual Results
1. Ellie Sheridan, DHS, 15:20; 2. Lacey Erickson, DHS, 16:11; 3. Lauren Jaqua, LHS, 16:27; 4. Maggie Hair, BM, 16:35; 5. Jess Macy, ONW, 16:37.
Tonganoxie Results
9. Andie Jeannin, 17:09; 34. Lauren Hall, 18:14; 40. Alex Hauk, 18:31; 43. Addy Phelps, 18:47; 71. Kayla Leffert, 20:07; 73. Cristina Rubio, 20:17; 76. Lauren Himpel, 20:32.
Boys 5K
Team Scores
1. DeSoto, 71; 2. Paola, 85; 3. Mill Valley, 105; 4. Olathe Northwest, 119; 5. Maranatha, 129; 6. Lansing, 150; 7. Bonner Springs, 165; 8. Pittsburg, 198; 9. Tonganoxie, 226; 10. Bishop Miege, 245; 11. Basehor-Linwood, 247; 12. St. James, 248; 13. Piper, 360.
Individual Results
1. Brandon Craig, LHS, 16:38; 2. Brooks Ballou, BSHS, 17:14; 3. Austin Hinchey, DHS, 17:22; 4. Jeese Foulk, ONW, 17:27; 5. Ryan Keene, ONW, 17:36.
Tonganoxie Results
30. Joel Dunning, 19:04; 35. Dalton Lawson, 19:21; 48. David Powell, 19:49; 57. Caleb Himpel, 20:07; 63. Tommy Heskett, 20:02; 64. Keith Slater, 20:24.