Chieftain girls take 3rd on home course
THS

boys finish 4th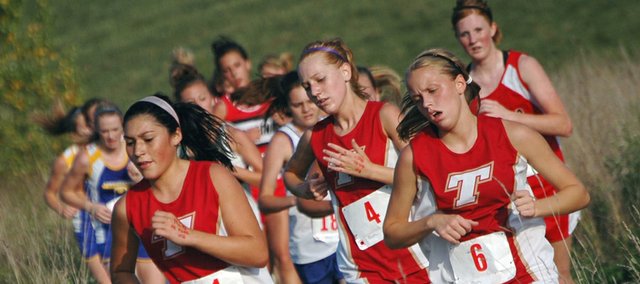 Photo Gallery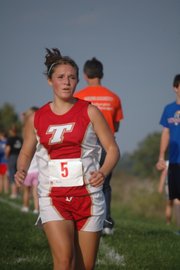 2008 Tonganoxie Invitational
Three days after finishing ninth at Bonner Springs, the Tonganoxie High cross country squads fared a little better on their home course at the Tonganoxie Invitational on Tuesday.
The Chieftain girls finished third and the boys took fourth.
Cross country powerhouse Wamego dominated the Tonganoxie Invitational on Tuesday as the boys and girls teams won team titles and Breanna Briggs and Riley Woodward won individual crowns. Woodward set a new course record with his 5K time of 16:03.
As is usually the case, the Chieftains were led by Andie Jeannin and Matt Brock. Jeannin (eighth, 16:44) and Brock (17th, 17:53) both medaled, as did their THS teammates Lauren Hall, Alex Hauk, Addy Phelps, David Powell, Joel Dunning and Caleb Himpel.
Six runners from McLouth also competed at the invitational. Derek Wright was the top Bulldog, finishing 54th in the boys 5K run.
Girls 4K
Team Scores
1. Wamego, 40
2. Mill Valley, 85
3. Tonganoxie, 102
4. Jefferson County West, 104
5. Anderson County, 114
6. DeSoto, 127
7. Kansas City Christian, 130
8. Lansing, 190
9. Wellsville, 209
Race Results
1. Breanna Briggs, Wam., 15:29
2. Taryn Brees, JW, 16:03
3. Jade Brake, JW, 16:17
4. Meredith Brooks, MV, 16:20
5. Rachel Roudybush, Wam., 16:27
6. Reagan Rockers, And., 16:27
7. Kelly Roberts, Wam., 16:32
8. Andie Jeannin, THS, 16:44
9. Kati Strickland, MV, 16:57
10. Kristin Tipin, KCC, 16:58
Area Results
14. Lauren Hall, THS, 17:22
20. Alex Hauk, THS, 17:31
24. Addy Phelps, THS, 17:41
48. Lauren Himpel, THS, 17:31
54. Kayla Leffert, THS, 19:28
62. Gelia Gardner, MHS, 20:08
66. Brittany Schuman, MHS, 20:34
69. Caroline Overbaugh, MHS, 20:39
78. Anne Courtney, MHS, 23:49
Boys 5K
Team Scores
1. Wamego, 23
2. Santa Fe Trail, 48
3. Mill Valley, 102
4. Tonganoxie, 114
5. Kansas City Christian, 133
6. Anderson County, 160
7. Wellsville, 192
8. Jefferson County West, 232
9. DeSoto, 239
10. Piper, 240
11. Spring Hill, 274
12. Lansing, 353
Race Results
1. Riley Woodward, Wam., 16:03
2. Philip Hudson, Wam., 16:22
3. Nick Anning, KCK, 16:29
4. Quentin Capra, SFT, 16:34
5. Ben Chmiel, Wam., 16:47
6. Tanner Spreer, Wam., 17:00
7. Drake Stewart, SFT, 17:08
8. Devin Snethen, SFT, 17:13
9. Jordan Umscheid, Wam., 17:19
10. Tyler Gude, 17:23
Area Results
17. Matt Brock, THS, 17:53
20. David Powell, THS, 18:11
22. Joel Dunning, THS, 18:17
28. Caleb Himpel, THS, 18:36
34. Dalton Lawson, THS, 18:44
40. Patrick Rachford, THS, 18:54
53. Tommy Heskett, THS, 19:20
54. Derek Wright, MHS, 19:23
85. Jarrod Bechard, MHS, 23:16