Jaguars spurt past Chieftains in 2nd half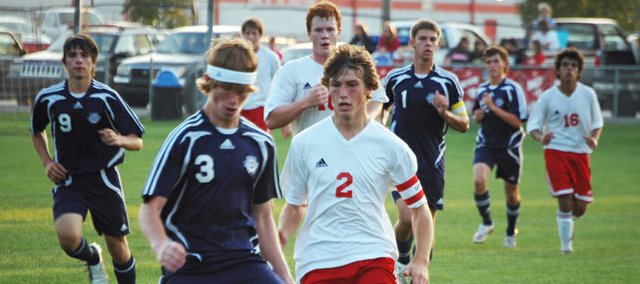 For 95 percent of Tonganoxie High's 80-minute, Monday night match with Mill Valley, the Kaw Valley League opponents went toe-to-toe.
But the Jaguars proved to be the better opponent during a vicious, match-deciding spurt in the second half, scoring three goals in less than four minutes, eventually giving them a 4-2 victory at Chieftain Park.
The Mill Valley rally began in the 56th minute of a 1-1 match when Taylor Rinehl perfectly touched the ball behind him to a streaking Landon Kittle for the go-ahead goal.
That seemed to be the play that woke up the Jaguars, who coach Arlan Vomhof admitted were somewhat lax coming into the game, likely because it is a relatively young squad with two returning seniors and not a lot of varsity experience.
Less than two minutes later, the Jaguars and Kittle had scored again. This time, however, the goal came when Kittle rebounded a Nate Friesner free kick that had been knocked away by THS goalkeeper Mitch DeHoff.
"We got a couple where we took advantage of quick follows," Vomhof said.
Indeed, Mill Valley's final goal in the surge (and of the match) came in the 59th minute when Tyler Clark, whom Vomhof had just subbed in, rebounded a missed shot by Max Wendt to net his first goal of the season.
"People just happened to be where they needed to," Vomhof said. "On a couple of them, some people just picked up some trash on the back side and got the ball in the net - just the right place at the right time."
THS coach Ken Lott said part of Mill Valley's success came from his team's lapse in that short, three-goal swing.
"We just kind of have times in the game where we have a five- or 10-minute period where we relax too much," Lott said of the segment when his players stopped playing as aggressively.
Tonganoxie (1-6-1) was more assertive early, actually scoring the first goal in the match. Preston Putthoff received a cross from Jamison Bloomer and sent an arching header up and over MVHS goalkeeper Thomas Richmond in the 12th minute of action. The Jaguars tied the match four minutes later on a goal by Rinehl.
But the Chieftains didn't score again until the 73rd minute when Bloomer scored on a breakaway after a crossing pass from Tyler Woolworth.
Bloomer was nearly speechless after the Chieftains played the Jaguars so tight.
"We've never done this well against Mill Valley," said Bloomer, who has scored three goals in two games. "Last year, we had two, maybe three shots on goal."
Lott was equally impressed with the Chieftains' effort.
"That's the best I've seen us play as a team," the coach said. "There's a lot of things I don't have to tell them anymore. They just do it."
The Chieftains are back at home Thursday evening at 6 p.m. for a match with Bonner Springs.