Kaws send Chieftains home with first loss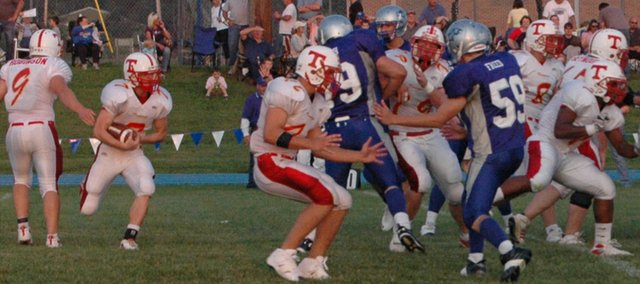 Perry — Although Perry-Lecompton didn't pull out any gimmick or gizmo plays, there were plenty of Gimzo plays Friday at Perry.
As in senior quarterback Shane Gimzo, who accounted for five of the Kaws' eight touchdowns in a 56-7 win over Tonganoxie High.
Gimzo rushed for four touchdowns and passed for another as PLHS improved to 2-1 on the year with its homecoming defeat of the Chieftains.
"He's a heckuva good football player," Kaws coach Mike Paramore said about his senior quarterback, noting he's a vital weapon because he's a dual threat with the run and the pass.
As for the game itself, Paramore was pleased with his team's performance, especially with all the distractions that come with homecoming week.
"It felt good," Paramore said. "We really came out hard."
That the Kaws did.
Perry-Lecompton won the coin toss, but deferred to the second half.
With Tonganoxie having the first possession, the Chieftains had third and 8 from their own 15 when Perry-Lecompton senior Aaron Andrew recovered a THS fumble. Moments later, Gimzo scored and PLHS had an early 7-0 lead after senior kicker Chakkaphong Artwichai's extra point was successful.
The two teams traded punts in the next two series, but on Perry-Lecompton's following possession, the Kaws capped a nine-play, 59-yard drive with a 1-yard Gimzo run.
Tonganoxie got right back in the game on the ensuing kickoff return when THS sophomore Jeremy Carlisle returned the ball 95 yards, streaking down his team's sideline for his second return TD of the season. Zack Robinson's extra-point cut Perry-Lecompton's lead in half, but the Chieftains would get no closer. The Kaws rattled off 42 straight points and improved their Kaw Valley League record to 2-0.
THS, meanwhile, dropped to 2-1 overall and 0-1 in conference play.
"This game wasn't won tonight," THS coach Mark Elston said. "It was won in January, February, March, April, in the weight room and in summer camps."
Elston said his squad's "youth was exposed" against a Perry-Lecompton squad that boasted 17 seniors.
The Tonganoxie coach added, "no disrespect to Prairie View and Osawatomie," the Chieftains' first two opponents, but they weren't at the same level of competition as Perry-Lecompton and other KVL heavyweights.
Elston said his team didn't have a solid practice Thursday. He said he had stressed to his team that the Kaws were an excellent football team.
THS didn't help its own cause either, as the Chieftains turned the ball over seven times.
All aspects of Perry-Lecompton's game was clicking, including the kicking game. Artwichai went 8-for-8 in PAT attempts. He also connected on what would have been a 37-yard field goal, but Tonganoxie was flagged for roughing the kicker. The Kaws' possession continued, and PLHS eventually scored a touchdown on the drive.
Elston said he was pleased with how his squad stopped Perry-Lecompton on some drives that were deep in Tonganoxie territory.
THS looks to get back in the win column Friday at home when it takes on Wyandotte at 7 p.m..
SCORE BY QUARTERS
THS 7 0 0 0 - 7
PLHS 21 21 14 0 - 56
HOW THEY SCORED
FIRST QUARTER
(9:49) Shane Gimzo, PLHS, 9 run. Chakkaphong Artwichai kick. (Perry-Lecompton 7, Tonganoxie 0).
(2:28) Mark Higgins, PLHS, 1 run. Artwichai kick. (Perry-Lecompton 14, Tonganoxie 0).
(2:15) Jeremy Carlisle, THS, 95 kickoff return. Zack Robinson kick. (Perry-Lecompton 14, Tonganoxie 7).
(0:27) Gimzo, PLHS, 3 run. Artwichai kick. (Perry-Lecompton 21, Tonganoxie 7).
SECOND QUARTER
(11:42) Gimzo, PLHS, 27 run. Artwichai kick. (Perry-Lecompton 28, Tonganoxie 7).
(6:08) Gimzo, PLHS, 2 run. Artwichai kick. (Perry-Lecompton 35, Tonganoxie 7).
(1:01) Aaron Andrew, PLHS, 2 run. Artwichai kick. (Perry-Lecompton 42, Tonganoxie 7).
THIRD QUARTER
(7:20) Joel Gantz, PLHS, 25 pass from Gimzo. Artwichai kick. (Perry-Lecompton 49, Tonganoxie 7).
(5:34) Kyle Morgison, PLHS, 50 run. Artwichai kick. (Perry-Lecompton 56, Tonganoxie 7).