City has new vision for downtown retail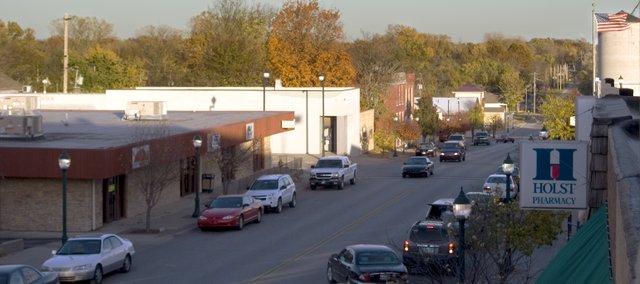 Bucher Willis and Ratliff's future vision of Tonganoxie is almost complete.
After a public meeting Sept. 17, BWR, the city's planning firm, is one step closer to revealing its plan for retail development in downtown Tonganoxie and the surrounding area.
"We got a lot of good direction and I heard a lot of consensus, but I heard a lot of diverse ideas," Scott Michie, vice president of BWR, said. "We got some good diversity and a lot of affirmation."
This was the second-to-last phase of BWR's core study on developing ideas for retail in the city and what the city's look should be. The study includes a communitywide survey, economic market study, community development meetings - called charrettes - and a final open house that will allow the community to have input on the company's final report. The open house will be scheduled for mid October with the final report scheduled to be finished mid-November.
Michie said the 400 completed surveys sent to about 1,200 residents in and around the city gave the planning firm "some good direction," on where to take the city.
When asked what types of business were needed in the downtown area, 51 percent of those surveyed said downtown needed more restaurants, specifically, a variety of them. And a majority of those surveyed said in the future Tonganoxie should have its restaurants as a source for day trips by visitors. Around 42 percent said it needed a home improvement store.
There was also space available for people to write in comments for BWR.
"Probably the most common comment was to keep the small-town atmosphere," Michie said. "They want the best for Tonganoxie. They want to support your downtown. They are proud of downtown."
Twenty-seven people attended the meeting held at the newly-remodeled meeting room at Bichelmeyer's Steakhouse. During the meeting, the group was able to give its preference on how downtown would look, including the types of informational signs it should have, what kind of open space it should have and what kind of art would fit with the town's feel.
The larger group was then split into smaller groups, where they focused on commercial development.
"We thought open space for new business was a strength," Jason Ward, city council member, said during the discussion time when all of the groups shared their thoughts. "Although that is something that people look at as a detraction, we think it provides an opportunity for people to come in and bring in a business."
Other ideas, like renovating the train depot, running a business loop off of U.S. Highway 24-40 through downtown and doing something with the four-corners area at U.S. 24-40 and Fourth Street, were discussed.
BWR began its research after a unanimous decision by the Tonganoxie City Council to pay the planning firm $33,700 for a report. The public will be allowed to comment on the draft version before the final plan is announced in November.