CR1

should be ready by November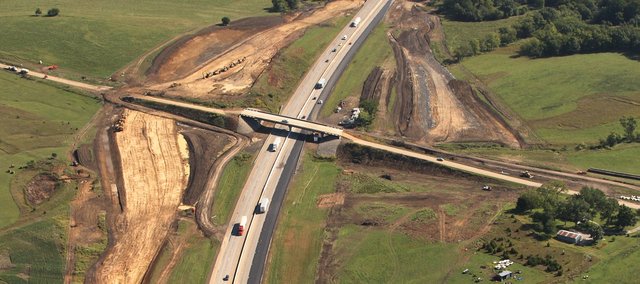 Work to build a wider, smoother, safer Leavenworth County Road 1 is still on track for a November 2009 completion, project superintendent Ryan Blosser says.
Look for four new toll plazas - one at each ramp leading on and off the Kansas Turnpike at what will be exit 212 - to start rising out of the ground in about four weeks.
"It's going good," said Blosser, of Hamm Cos., general contractor for the $16.7 million job.
The Perry-based company is busy working on the interchange portion of the project, which calls for new ramps to go along with a new bridge that crosses the turnpike. The bridge already has been installed by King's Construction.
The Kansas Turnpike Authority is spending $6.2 million for the interchange. Leavenworth County is financing the other $10.5 million to rebuild the county road, a stretch that runs from U.S. Highway 24, about a half-mile south of Tonganoxie, to Kansas Highway 32 south of the turnpike.
On May 19, Tonganoxie Mayor Mike Vestal broke a split decision in favor of contributing $1.5 million to the project.
The city's contribution would come from $1 million paid in $100,000 increments during the next 10 years. This money would come from the city's portion of the 1 percent county sales tax revenue. The remainder would be paid from revenues from development fees that would come from any new commercial or residential development along the road.
The 5.8-mile stretch of road will go from two narrow lanes and even narrower shoulders to a "super two" configuration, featuring wider lanes and roadside shoulders big enough to accommodate stalled, parked or pulled-over vehicles without impeding the flow of passing traffic.
"And we're knocking all the hills down, and filling the low spots, to make it safer," Blosser said.
Rex Fleming, project engineer for the Kansas Turnpike Authority, said the project came at the request of Leavenworth County. After considering vehicle patterns, growth projections and potential revenues, turnpike officials gave the project the green light.
"We were glad to partner with them on it," Fleming said. "The numbers worked out."