Braves best Chieftains, 2-0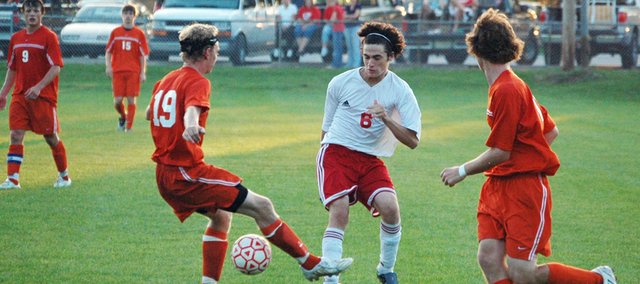 Having previously lost to the Braves by five goals this season, the Tonganoxie High boys soccer team played Bonner Springs much tougher the second time around but still fell, 2-0, Thursday evening at Chieftain Park.
Bonner Springs scored the first goal of the match in the 57th minute when Jose Lopez fired a shot over diving Chieftains goalkeeper Mitch DeHoff.
The Braves scored again six minutes later when Conner Harrington weaved in and out of the Tonganoxie (1-7-1) defense before placing a goal in the top, right corner for a 2-0 lead.
The Chieftains had some chances of their own in the second half, but couldn't find the back of the net. Senior Jamison Bloomer, a natural lefty, shot on goal from the right side with his right foot and missed just wide left in the 42nd minute. About eight minutes later, THS junior Tyler Woolworth had a break away attempt that sailed wide right.
In the 53rd minute, a botched corner kick play nearly turned into the first goal of the match when the Chieftains' Ryan Brammer gathered the loose ball and fired it at the goal, just two feet too tall.
Tonganoxie was truly unlucky in the loss, as was the case when what appeared to be a certain score off the boot of Joseph Parrino was headed out of the goal by the Braves' Jacob Moulin, who was in the right side of the goal to save his keeper on the shot.
Down two with time winding down, the Chieftains' final legit chance to score came in the 71st minute when Joao Martins and Bloomer worked a give-and-go and Bloomer fired a bouncing shot along the ground that just missed the right post.
The first half of the match was scoreless but both squads had at least one really good look. In the 17th minute, Tonganoxie's Martins crossed the ball ahead to junior Tyler Woolworth who had a quick window to score but fired just high, over the crossbar. Bonner Springs' Conner Harrington had a shot deflected wide right thanks to THS defender Kenny Schultz, who knocked it away.