Chieftains meet gold bracket goal at tourney
Tonganoxie finishes sixth at home invitational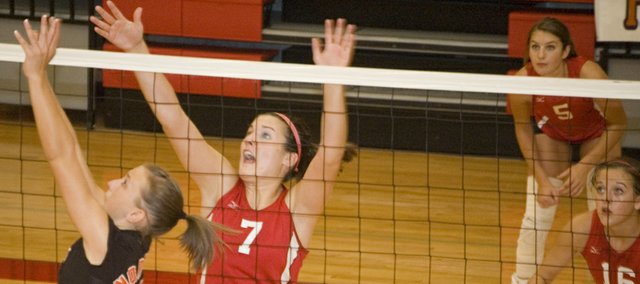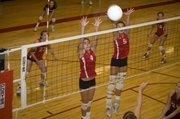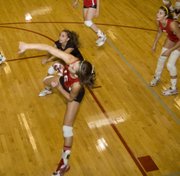 Having already won a match against Bishop Ward and lost a match to Great Bend in pool play earlier that morning, the Tonganoxie High volleyball team needed to win its match with Eudora to advance to the gold bracket and avoid the silver bracket at its home invitational early Saturday afternoon.
The Chieftains won Game 1 with the Cardinals, but trailing them early in the second game, co-coach Brandon Parker called a timeout and animatedly reminded the players about their gold bracket goal.
Message received. THS eventually bested Eudora in three games to advance to the higher division.
Though the Chieftains ultimately finished sixth at the Tonganoxie Invitational after losing to Shawnee Mission Northwest and Ottawa in the gold bracket, they were glad to have done so because their main objective for the day was to improve.
"We wanted to get to the gold because we want to step up our playing level," Parker said. "Could we get a few more wins in the silver? Maybe, but that doesn't mean that we would necessarily get better."
The Chieftains (9-9) felt they did improve by going 2-3 at the invitational because the tourney field was talented. By the end of the day, the relatively young Class 4A THS squad had lost to 5A Great Bend, 6A SMNW, taking both schools to three games, and 4A Ottawa, a team with nine seniors that received Kansas Volleyball Association votes in the Week 3 rankings. That experience, said senior Chrissie Jeannin, who along with sophomore Molly O'Hagan made the all-tournament team, should prove valuable.
"It's always good to play a bunch of good teams," Jeannin said, noting that playing against larger schools is a handy measuring stick. "You know where you're at and you know what you need to work on."
Senior Megan Puhr, who Parker said played well on the back line for THS, said the Chieftains can use this experience for the postseason at the end of the month.
"It just gets us prepared so when sub-state comes around, we can just get into it and go," Puhr said.
Jeannin also was happy to avoid the silver bracket, played in the west campus gym, even if the Chieftains might have finished the day with a better record there.
"I know I didn't want to go in that other gym," she said of the darker and steamier annex. "It reminds me too much of junior high (which the west campus formerly was)."
While upperclassmen such as Jeannin, Puhr and Abby Eisman led THS in its five invitational games, they were also helped out by some new faces not too far removed from middle school. Freshmen Haley Smith and Shyanne Gergick played extensively Saturday and fellow frosh Brooklyn Kerbaugh got on the court against Ottawa. Puhr was impressed with the play of Smith and Gergick, who just joined the varsity squad last week.
"They stepped up a lot," Puhr said, praising Gergick for her play at libero and Smith for her serving.
Tonganoxie defeated Immaculata and Pleasant Ridge and lost to Jeff West on Thursday at Immaculata.
Results
1. Olathe East
2. Manhattan
3. Great Bend
4. Shawnee Mission Northwest
5. Ottawa
6. Tonganoxie
7. Eudora
8. Gardner-Edgerton
9. Basehor
10. Perry
11. Bishop Ward
12. Piper
All-tournament team
Alex Hartig, Great Bend
Kelle Carver, Shawnee Mission Northwest
Kara McFarland, Ottawa
Molly O'Hagan, Tonganoxie
Caitlyn Murray, Great Bend
Chrissie Jeannin, Tonganoxie
Kendal Abel, Eudora
Lauren Bechard, Gardner-Edgerton
Ali Boehler, Olathe East
Lindsey Martini, Manhattan