The coach without a name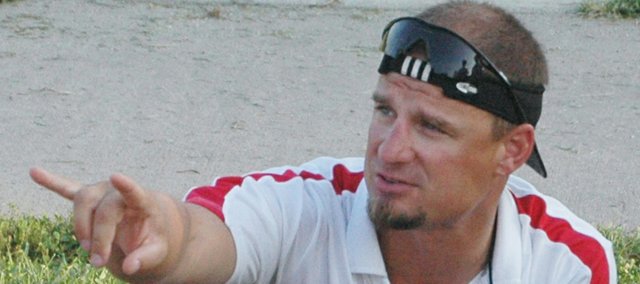 Ask a Tonganoxie High soccer player what he thinks about Brian Kroll and he likely will stare blankly back at you, clueless about whom you're talking about.
Ask a Chieftain about "Coach K," though, and he will gush about the THS assistant soccer coach's knowledge of the game and his ability to transfer that wisdom to the players.
What many of Tonganoxie's soccer players don't realize is that Kroll and K are one and the same.
Coach K joined head coach Ken Lott as his aide and junior varsity head coach this season, and from jump street the boisterous new assistant with dark shades and a backward, black visor has only been identified with that one letter.
It's all part of his intense coaching persona. But why not tell the players his surname?
"He's probably like in the witness protection program," senior Austin Smith jokingly guessed earlier this season.
Not quite, K countered.
"I'm their coach. I'm not their friend, I'm not their buddy," he said in a warm tone that contradicted the coldness of that statement when asked about why he hadn't divulged his full name to the players. "I'm there to teach them the game of soccer."
But there's more to it than that. Kroll started coaching his son's youth soccer team years ago and has gone by Coach K on the sideline ever since. Not coincidentally, his coaching idol is Duke University men's basketball coach Mike Krzyzewski, the world's foremost coach K.
When the new assistant spoke with Lott about going by his nickname, the head coach had no problem with that.
"It's just kind of a mysterious thing," Lott said. "The kids are still trying to get to know him and he's keeping that on the side just so they have that curiosity and interest."
Lott's interest immediately was sparked the first time he saw his future aide in action. Already in search of a new assistant coach, Lott, working as an official at a youth recreational soccer league in the area, was impressed with the skill and demeanor displayed by all the young players on K's team. Upon meeting him, Lott said there was just something he liked about the enthusiastic coach without knowing exactly what it was. But soon a relationship was forged and, before long, the two were working together on the Tonganoxie sideline. And when coach K arrived with Lott at pre-season practices, players knew things were going to be different.
"He was intimidating at first," senior Jamison Bloomer recalled. "Then once you get to know him, he's a good guy."
Any intimidation likely came from the assistant's intensity, a drastic change from the laid back Lott. Speaking quite candidly, Lott said a weakness of his as a coach was creating a strong rapport with the players, but with coach K's magnetic personality and motivating approach, a new dynamic between the coaching staff and the players was created. Lott said he and K have found an approach that works.
"That's why I feel that we're getting better," Lott said. "I can communicate through him to the kids."
Coach K doesn't mind being the staff mouthpiece either.
"Coach Lott and I are extremely compatible when it comes to our coaching styles," he said. "The biggest difference is the delivery."
Bloomer said K's approach works.
"He's got a good way of teaching the game," he said. "He loves it just as much as we do."
The energetic assistant said he thought the biggest reason the players have responded so well to a new voice was because Lott has been at THS long enough that the players became too comfortable with him. Then Coach K walked through the door and immediately made that comfort level disappear. "No name. Just a letter," as he put it. And before the first junior varsity game of the season, he had the players doing push-ups.
Even though he has a Navy background, Coach K is not just a fiery drill sergeant. Sure, he will punish the players for mistakes, but he also rewards them for success. He has hooked the Chieftains up with MLS Wizards tickets and gone out for pizza with them at Gambino's. Bloomer said coach K is fun to be around and he's one of the reasons the team is improving game-to-game.
"The things that he does off the field make us play better on the field," Bloomer said.
And, despite a losing record, the Chieftains are improving as they embark on the final six games of their regular-season schedule.
"Everything that coach (Lott) and I have been saying since the beginning of the season is starting to come to fruition," Coach K said, noting that things seemingly are finally clicking for the team. "The light is starting to shine."
He said much of the me-first mentality that plagued the team before the season has disappeared, which makes Coach K glad he decided to join the staff. Even though he "would love to be a head coach, eventually," the assistant is happy where he is now and he doesn't have any immediate plans to leave the THS sideline: "As long as they — the community, the kids, the administration — want to have me there, I would love to be there."
Most of all, he is happy with the relationship he has with coach Lott and the tag-team approach they are taking to teach the game he loves. It is all a bit unbelievable for the Lansing alum, who was a successful track athlete competing against THS in his prep heyday.
"I never, in a million years, ever would have dreamed I would be coaching for Tonganoxie," K said with a laugh. "I'm glad I am."