Predictable start sets tone for
THS

victory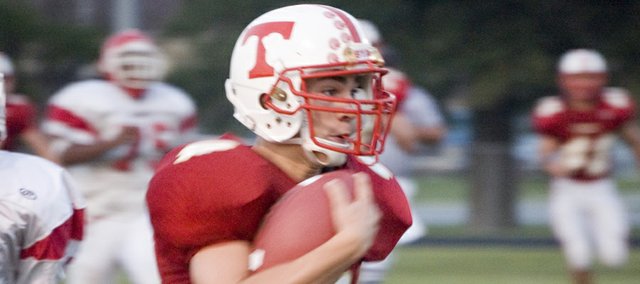 Mark Elston's chalkboard doubled as a crystal ball on Friday night before Tonganoxie High's non-conference tilt with Wyandotte at Beatty Field.
The Chieftains coach told his players in the locker room just how he thought the opening minutes of the contest would play out.
Elston predicted his team would return the opening kickoff to the 50-yard line, score on the first or second play and force a turnover on their first defensive possession.
And that's pretty much what happened as the Chieftains utilized a quick start on their way to defeating the Bulldogs, 34-8.
Following a 35-yard return by Austen Holloway on the opening kickoff, D.J. Lindsay ran 47 yards for a touchdown on the first play from scrimmage. Then, 21 seconds of game clock later, THS senior lineman James Edwards recovered a Wyandotte fumble.
"Some people might think I'm slightly psychic," Elston joked. "But they had to be pumped up enough for that stuff to happen, so I was real impressed with how the kids took that and made it happen."
After Seymour's fumble recovery, THS (3-1) went on a 12-play, 60-yard drive that included two fourth-down conversions before senior quarterback Zack Robinson scored the first of his three rushing touchdowns on an 11-yard run and kicked an extra point to give THS a 14-0 lead.
Elston couldn't complain about the team's start, but he said, ideally, they would have taken that 14-point lead and put the game completely out of reach. Referring to a pair of first-half THS turnovers in the red zone, he said the Chieftains twice had a chance to "step on their throat" but didn't. He said when his team starts seizing those opportunities, he will know they have arrived.
"Great teams don't let opportunities pass," he said, calling THS a good team.
While Elston was disappointed with offensive mistakes, Edwards said the defense was equally upset for allowing WHS to score.
"We've still got to get better. We let them get eight points. We've got to be a lot better than that," said Edwards, who also had a sack for THS, before adding that the Chieftains need to use this win and improve upon it before they head to Santa Fe Trail this week.
Robinson agreed.
"This week will help a lot," he said. "It helped us bounce back (from a 56-7 loss at Perry-Lecompton the week before) and I think we'll be ready to get that road win."
THS was able to get back in the win column without sophomore running back Jeremy Carlisle, who was out with a head injury. But Lindsay's performance made Carlisle's absence no problem.
The junior had six carries for 77 yards and a TD, picked off a WHS pass and returned it 26 yards in the second quarter (setting up another scoring drive), and had a 56-yard kickoff return following Wyandotte's only score of the evening.
"Carlisle was out and they needed someone to fill his spot so I did my best to make sure no one missed a beat," Lindsay said. "It just showed that we could do it as a team."
Some other contributors were Richie Ridihalgh, who recovered a fumble, and Boomer Carey and Clint Kissinger, who combined on a sack.
SCORE BY QUARTERS
WHS 0 8 0 0 — 8
THS 14 7 0 13 — 34
RUSHING
THS: D.J. Lindsay 6-77, Zack Robinson 18-70, Jeremie Maus 12-64, Austen Holloway 11-44, Tucker Hollingsworth 5-24, Brady Waldier 1-17, Dylan Scates 1-5.
PASSING
THS: Robinson 3-8-33, interception.
RECEIVING
THS: Maus 2-18, Justin Jacobs 1-15.
HOW THEY SCORED
FIRST QUARTER
(11:35) D.J. Lindsay, THS, 47 run. Zack Robinson kick. (Tonganoxie 7, Wyandotte 0).
(6:24) Robinson, THS, 11 run. Robinson kick. (Tonganoxie 14, Wyandotte 0).
SECOND QUARTER
(6:48) Robinson, THS, 8 run. Robinson kick. (Tonganoxie 21, Wyandotte 0).
(3:10) Brion Milstead, WHS, 6 run. Milstead run. (Tonganoxie 21, Wyandotte 8).
FOURTH QUARTER
(4:49) Robinson, THS, 1 run. Robinson kick. (Tonganoxie 28, Wyandotte 8).
(1:33) Brady Waldier, THS, 17 run. Conversion failed. (Tonganoxie 34, Wyandotte 8).