Rim Rock Farm ends busy week for Chieftains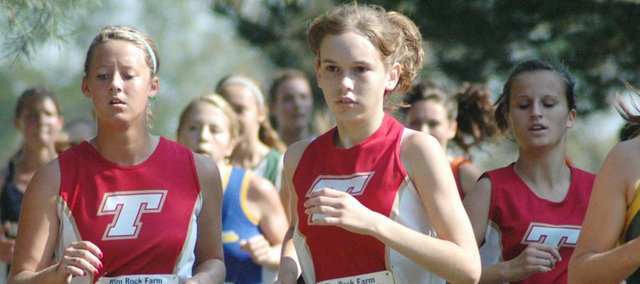 After a busy week, the Tonganoxie High cross country teams finally have a chance to take a breath and relax a little.
The week started Sept. 23 when the Chieftains hosted the Tonganoxie Invitational and wrapped up on Saturday at Rim Rock Farm in Lawrence.
"This was a very busy week for the cross country team," coach Phil Williams said, "but this coming week will be great to just worry about practice and not have any meets."
As is almost always the case, the boys team was paced by Matt Brock and the girls were led by Andie Jeannin at Rim Rock. Competing in the Blue division, Brock, 12th, finished the 5K course in 18:06 and Jeannin, 36th, ran the 4K in 18:10.
The boys placed fourth in team standings, which Williams said was their second-best finish, ever, at the course and finished ahead of all the other Class 4A Kansas schools in their division.
"Matt Brock ran well, and Patrick Rachford had his best race," Williams said. "David Powell was almost sick with allergies before the race, but ran very well under the circumstances."
The girls, affected by a blister that developed on Jeannin's foot during the race, finished 10th.
"The others pace themselves off her, and didn't adjust to the problems she was having, and were back farther than expected," Williams explained.
The highlight of the day for THS might have come in the junior varsity boys race when the Chieftains had four medalists — Matt Titterington, Dalton Harrington, Keith Slater and Brady Field — and won their division.
Girls 4K
Tonganoxie Results
36. Andie Jeannin, 18:10
43. Alex Hauk, 18:22
52. Lauren Hall, 18:35
93. Addy Phelps, 19:38
115. Kayla Leffert, 20:13
121. Sarah Williams, 20:21
124. Lauren Himpel, 20:23
Boys 5K
Tonganoxie Results
12. Matt Brock, 18:06
36. Joel Dunning, 19:09
51. David Powell, 19:31
54. Patrick Rachford, 19:39
74. Dalton Lawson, 20:14
79. Caleb Himpel, 20:18
97. Tommy Heskett, 20:46