Burdel Welsh questionnaire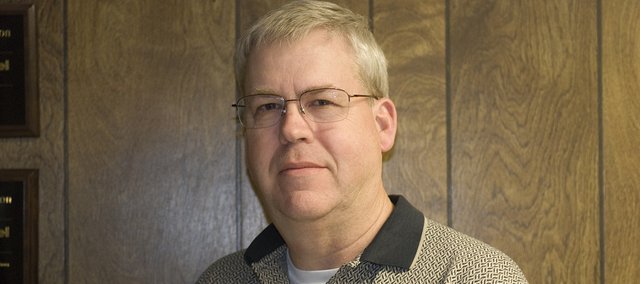 Age: 52
Family: Married for 31 years to Cynthia Welsh, father of Jim Welsh (29) of Lawrence and Brian Welsh (26) of Tonganoxie. Both sons went through the Tonganoxie school system and graduated from Tonganoxie High School. Cynthia is the Treasurer/Business Manager for Trinity Lutheran Church, Leavenworth and Basehor Campuses. Jim is a police officer for the City of Lawrence. Brian is a police officer for the City of Leavenworth and an EMT-I and volunteer firefighter for the City of Tonganoxie.
Education: Bachelor of Science in Business Management from the University of Phoenix, and scheduled to complete a Master of Business Administration in May 2009 from the University of Phoenix. Numerous other occupational related certifications.
Occupation: Chief of Police, Lake Quivira, Kansas in Johnson and Wyandotte Counties
Political and government experience: Thirty-three years of government employment, serving with the Atchison County Sheriff's Department as deputy and acting undersheriff; civilian employee for the Kansas Bureau of Investigation, Topeka; deputy sheriff with the Leavenworth County Sheriff's Office; director of Leavenworth County Emergency Management; police officer for the University of Kansas, Lawrence; undersheriff for Leavenworth County; and chief of police for Lake Quivira.
Clubs or organizations: Sec-Treasurer for the Johnson County Police Chiefs and Sheriffs Association, Member National Rifle Association, Wyandotte County Law Enforcement Professionals, Kansas Peace Officers Association, and Kansas Chiefs of Police Association.
Why are you running for a council seat?
Two qualified candidates had filed for re-election, but no one had filed for the third opening. I felt it was an opportunity to serve the community, and if someone else filed, the voters would have more than one candidate to choose from in the election. I hope my education and experience will make me one of their choices on election day.
What is your top priority for Tonganoxie and why?
My top priority is to develop a good working relationship with the other members of the city council. One vote will accomplish nothing. A council member must have the confidence and support of the other council members to swing the vote on issues. I recognize the experience and education that other members of the council bring to the table. I hope they will learn to trust and support my judgment. Together, we can face the current economic issues facing business and government and make the best decisions. Tonganoxie needs a strong team to lead the city forward.
What qualifications should voters know about you?
I have been a resident of Tonganoxie since 1991 and a Leavenworth County resident since 1978. Through the Sheriff's Office, I worked in and around Tonganoxie, even when I did not live here. This has given me an historical perspective of where Tonganoxie has been and the direction it is going. Besides working for government, my wife and I have owned and operated small retail businesses for 27 years. This experience gives me another perspective on the issues facing the city and businesses. I hope my practical business experience, along with my education, will help me to formulate good decisions with the council.
What is the most pressing issue facing the city and how do you propose to take care of it?
I believe the economy is foremost on everyone's mind. The news media puts the financial situation in front of us many times each day. The knee-jerk reaction is to close the doors and stop spending, but we must find a way to live within our budget and keep the doors of Tonganoxie open, seeking growth and new opportunity within our means. I believe we will come through the current economic downturn and we must be positioned to take advantage of the good times ahead.
What should the city do when it is facing cuts in revenue and slower growth?
The city must find a way to operate within its means, but keep the momentum moving forward in a positive direction. Some cuts have been made by the current council and these cuts will need to be re-evaluated on a regular basis. More cuts may be necessary, or some projects may be restored. Major capital projects must be timed to take advantage of the limited state and federal funds available. This may mean moving forward with projects in a time when some will say we should not be doing anything. Foregoing the opportunity to obtain state and federal funding will only cost more in the long term.