Candidates respond to voters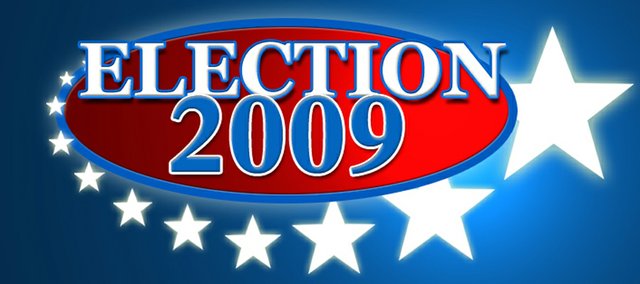 From gambling casinos to parked school buses, candidates for Tonganoxie City Council and Tonganoxie School Board fielded several questions at Thursday's meet the candidates event at Tonganoxie VFW Hall.
Harold Denholm served as moderator for the event.
City council candidates Burdel Welsh, Roger Shilling, Jim Truesdell and Jason Ward told about 60 people in attendance about themselves and then fielded questions. Denholm said Sieglinde Marx could not attend because she recently had surgery.
"She's recovering and I don't blame her for not coming out tonight," Denholm said. "We appreciate her taking the time to run, but we understand she needs to be at home recuperating."
City council candidates first were asked whether they would support a casino if it ever were proposed in the Tonganoxie area.
Shilling said he would favor it because there are plans for a casino at nearby Village West and it would improve the tax base.
Other candidates said they probably would be against it.
Ward, who like Truesdell is seeking re-election, said he didn't think it would be "a good fit," nor did he think it would be successful.
Truesdell said he'd probably be against it because he's heard crime usually follows.
"You pay as much for crime as you do gaining from any taxes," he said, noting he thought money doesn't always go locally.
Welsh, meanwhile, said he would need to weigh pros and cons, but said he thought there would be an oversaturation of casinos and it would not be beneficial.
The candidates also fielded questions about bidding policy, public indebtedness and bringing businesses to Tonganoxie.
Welsh said he would listen to suggestions regarding ideas for bringing businesses to the area, but he wanted people to come with suggestions, "not complaints."
Shilling criticized the city for spending $3,500 for a study on how to attract businesses.
"I haven't seen any influx of new businesses," Shilling said.
Ward said, in the end, "a study's a study," and asked that people bring their ideas to the council.
"The answer may be in this room," he said. "Anyone who would like to participate is welcome. That's the great thing about Tonganoxie. If you want to make an impact, you can make an impact."
Tonganoxie School Board
Saving money during the current economic climate opened the discussion for the panel of school board candidates. Candidates Dan Hopkins (Position 4), Kay Smith and Randy Wager (Position 5) and Kris Grinter, Tim O'Hagan and Doug Tate (Position 6) answered questions about savings.
Smith, who is running for re-election, said more efficient bus routes and the school's energy efficiency contract with Trane were ways the school district is saving money.
She noted that the middle school, which was completed roughly three years ago, has heating and cooling issues.
"Some rooms it is 80 and some rooms 60," Smith said. "You wonder how that happens. In Eudora it happened. The only thing we could have done, we could have sued the company and we're not going to do that."
She also stressed there would be no artificial turf installed at Beatty Field.
Grinter earlier in the evening mentioned that education should come first and that "things like Astro turf will have to wait or be put on the back burner."
Candidates also were asked about whether they would favor an honesty policy for board members. All were in agreement that they would favor some sort of policy.
The amount of executive sessions the board enters into came up at the forum.
Wager said the board should let the public know more about those meetings, not what's actually being discussed, as the sessions provide protection of privacy for individuals, but some general information would be good.
Tate, who seeks his first full term, said the board was bound by statutes and rules in those closed-door sessions.
"None of us likes to go to executive session more than we have to," Tate said.
Another question centered on state law requiring school buses that are parked in residential areas to be moved from that spot after a certain amount of time.
Candidates said they were not aware of the law but would look into it.
Tuesday's election will decide which candidates will be elected. For more election coverage, log on at www. tonganoxiemirror.com.