Dan Hopkins questionnaire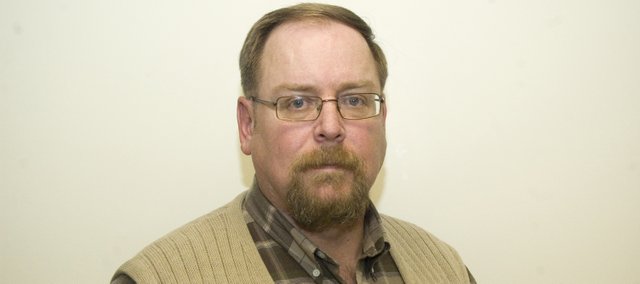 Age: 46
Family: Married, wife's name is Sesuk. We've been happily married for 25 years. I have four sons: Tim, 2004 graduate of Tonganoxie High School; Tom, 2006 graduate of THS; Dan Jr., tenth-grader at THS; David, fourth-grader at Tonganoxie Elementary School.
Education: Graduated cum laude with a bachelor's of science in Liberal Studies from Excelsior College.
Occupation: Retired Military (23 years), currently employed by Northrop Grumman Corporation as a Training Developer.
Political and government experience: Public safety
Clubs or organizations: Veterans of Foreign Wars, Post 9271, Tonganoxie, Post Junior Vice Commander.
Why are you running for school board?
It is a goal of mine to contribute and be part of the education Unified School District 464 provides our children. My four sons have all attended and two have graduated from Tonganoxie Schools. I believe there is nothing more important that we can do for our children than to ensure they have the best education we can provide to help them move forward in life. The best educated children are what we need to assure all of our futures.
What is your top priority for the district and why?
I see student safety and student achievement as our top priorities for the school district. We need to develop sound plans that protect our children. The school board and administration must commit themselves to student achievement. This is accomplished by providing our students with quality teachers and coaches who have the knowledge and ability to provide the tools for success. I believe that the school board and administration need to be fiscally responsible to the school district, balancing need with sensitivity to rising taxes and costs.
What qualifications should voters know about you?
What is the most pressing issue facing the school district and how do you propose to take care of it?
I'm a training developer and analyst currently developing training strategies for the United States Army. This experience provides me a professional insight into curriculum and education processes. My educational and professional experience will enable me to effectively contribute to the oversight of the school district, as well as understand and anticipate the fiscal effects of any policy decisions that come before the board.
In light of these uncertain economic times, how should the district move forward knowing it faces less funding?What is the most pressing issue facing the school district and how do you propose to take care of it? We are faced with difficult economic conditions and increased federal and state taxes. We must balance our mission to educate our children with our responsibilities to the tax payers. By seeking innovative funding revenues such as grants we can accomplish both. I have never been afraid of tackling a problem or trying to be part of the solution. I've learned early on that it is impossible to make everyone happy all of the time but you can be confident that I will always give an honest effort and my decisions are always predicated on what is in the best interest of the town and school district. Good leadership means more than having a direction to go in. That direction must be rooted in the people that make up Tonganoxie. First, we must have effective communication and community involvement during the decision making process. The school district affects everyone in Tongie. I honestly believe that there are enough smart people in our schools, city government, businesses, etc. to solve our toughest challenges.
As you campaign, what's the top issue you're hearing about from patrons and how do you intend to address it?
I have heard from patrons the need to represent them honestly. They want their board members to put the interests of the district before personal agendas. The perception of many is that the current board has members with a personal agenda. Patrons would like the board to provide policy and let the superintendent manage day-to-day operations. I'm for hiring the best superintendent and letting that person excel at their job, no more micromanaging. We must be accessible to our citizens. We are their elected advocates. We should listen to and represent our constituents honestly.