Jim Truesdell questionnaire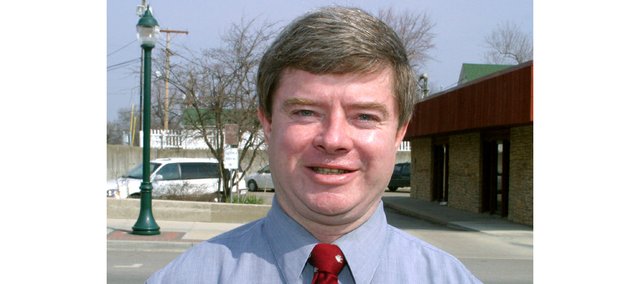 Family: Married to wife, Diane, for 26 years, three children, Tyler, Lindsey and Keaton
Education: Washington High., Kansas City, Kan.; BS, civil engineering and BS, general physical sciences, and MS, civil engineering, Kansas State University, Manhattan
Occupation: Bridge design project manager, HNTB Corp., Kansas City, Mo., licensed professional engineer (Kansas, Missouri, Oklahoma and Mississippi)
Political and government experience: Kansas Department of Transportation (KDOT) bridge designer, 4 ½ years; led KDOT Bureau of Local Public Projects Bridge Inspection Section, 2 ½ years; managed the administration and funding of the bridge inspection program for counties and cities statewide; USD 464 School Facilities, School Bond Issue and Patrons Committees, 2001-05; Tonganoxie City Planning Commission 2003-05; Tonganoxie City Council 2005 to present
Organizations: American Society of Civil Engineers; National Society of Professional Engineers; Tonganoxie Recreation Commission soccer coach
Why are you running for a council seat?
I have served on the city council for the past four years and I believe it is important to the community that we complete the projects that we have identified in the Capital Improvements Program. We need to provide the infrastructure necessary to support development and protect and maintain the newly constructed city facilities. I believe strongly that we need to continue to support our city employees with the appropriate tools, training, and upgraded facilities and continue to provide salaries and benefits comparable to communities similar to Tonganoxie.
I have worked hard with other members of the governing body, City Planning Commission and city staff to develop projects important to the city's growth and to bring those projects to fruition. Key projects that have been completed are the sanitary sewer treatment plant, new water tower near the new Tonganoxie Middle School, new aquatic center, new public works facility, Pleasant Street improvements and Chieftain Trail. Other important projects that have been identified or are under way include the new BPU waterline, improvements to several streets and improvements and expansions to the police and fire departments.
What is your top priority for Tonganoxie and why?
There are so many issues and challenges facing our community that is hard to identify any one thing as a top priority.
I believe that we need to strengthen our local economy by providing support to our existing businesses citywide, attracting new retail businesses to increase our sales tax revenues and attract businesses that will provide quality jobs to our local population. We need to support balanced residential development to provide quality living quarters so that businesses will want to bring their families to Tonganoxie and to broaden our property tax base.
In order to support our existing businesses and attract new businesses, we must continue to improve our existing infrastructure, provide the necessary infrastructure to support new development and improve our existing facilities as well as provide new facilities and equipment for our police and fire departments.
What qualifications should voters know about you?
I served on the Tonganoxie City Planning and Zoning Commission for two years prior to being elected to the city council in April 2005. Prior to those activities, I served on several USD 464 Tonganoxie School District facilities up-grade and bond issue committees.
I am a registered professional engineer with significant experience in the design and construction of bridges and other transportation projects. My engineering experience has been and will continue to be helpful to the city when making decisions regarding the city's infrastructure. For example, the National Bridge Inspection Standards (NBIS) have required that all bridges in the United States be inspected at least every two years since the early 1970s. Federal and state highway and bridge funds are dependant on the city meeting these requirements. I assisted the city engineer and city staff in developing the city's bridge inspection program, which led directly to identifying the Pleasant Street Bridge as needing immediate replacement of the superstructure and eventual replacement of the entire structure. I also assisted in the decisions regarding the nature of the emergency repairs and replacement structure type.
I have also been able to provide valuable oversight and assistance to our city engineer, city staff and governing body members in other infrastructure projects.
What is the most pressing issue facing the City and how do you propose to take care of it?
I believe the city needs to improve its public involvement processes as we continue to develop and execute projects. I believe that we need to improve our communication processes with businesses and other property owners and identify concerns early during the conceptual design phase of projects. Although we need to make decisions that will benefit the city as a whole, we are also charged with protecting the rights of individuals. As we upgrade the infrastructure in existing neighborhoods, we need to be flexible with regards to city standards while still providing a safe design and achieving the desired goals for the city.
What should the City do when it is facing cuts in revenue and slower growth?
Yes, we are facing cuts in revenue but Tonganoxie has never received much revenue from the state and federal government anyway. The cuts in revenue that our city staff has shown us may not have much of an effect on our capital improvement budget at all if we receive decent bids on our projects. The difference between the engineering estimates for projects compared to the actual bids could offset those cuts in revenue alone. We do need to become much more aggressive in seeking state and federal funding for projects.
Yes, there is slower growth but Tonganoxie still is seeing some growth. I believe that if we continue to improve the quality of life through continued improvement to our schools, infrastructure, parks and trails that we will attract the quality growth that we desire.
I believe there is several other key ways the City can address these challenging economic times and the City is currently addressing these issues. The City recently purchased 240 acres for development of a business park and we are aggressively seeking businesses that will bring meaningful jobs to Tonganoxie. We can provide some jobs to locals immediately by beginning work on our projects that are ready to be bid. We need to continue to focus on identifying projects as well as identifying outside funding (developers, state and federal funding) for projects such as 14th Street to broaden our tax base while minimizing the effect on our taxpayers.
During my term on the city council, we have developed and completed the above mentioned infrastructure projects, provided city employees with needed equipment, and raised employee salaries to be more competitive with other similar communities without significantly raising the mill levy. We need to continue to plan our projects to provide the balance between enhancing our infrastructure and creating new sources of revenue and jobs while holding the line on the mill levy.