TMS

students to stage 'Annie Jr.'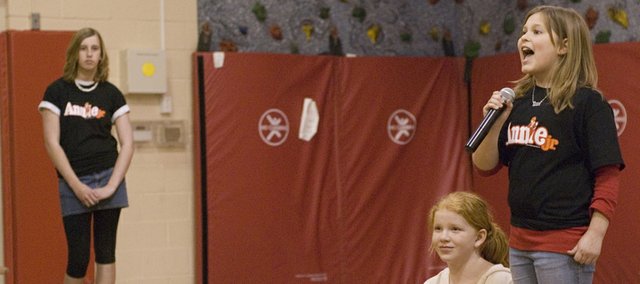 Even if it is overcast this weekend in Tonganoxie, anyone attending Tonganoxie Middle School's musical production on Friday and Saturday will be reminded that the sun will indeed come out tomorrow.
"Annie Junior" will be staged at 7 p.m. both nights at the Tonganoxie Performing Arts Center on the Tonganoxie High School campus.
According to TMS teacher Mariah Neff, who is co-directing the musical with fellow TMS teacher Debbie Holloway, the musical will be a shortened version of the Broadway hit. It will run about an hour to 1 1/2 hours, instead of the standard version, which is about 2 1/2 hours.
In all, there are 40 cast members in the play, which Neff said is TMS' largest cast. And, for the first time, a production will include fifth-graders. There are roughly another 20 middle school students who are helping with the production as well.
Of course, with a production, come costs.
For rights to the play, there was a $500 price tag. To offset those costs, people in the community were allowed to "adopt" orphans in the play. People who adopt will have VIP seating at the play, receive a souvenir button and a coat check.
The group raised $800 through the "adoption" drive.
"That kind of showed us people are a little bit excited about this play," Neff said.
Neff said preparations have also received a boost from middle school music instructor Heather Brown and art instructor Cassie Donahey.
Some people in the community heard early renditions of some of the songs. Cast members performed some of the songs at the Tonganoxie Nursing Center and Tonganoxie Elementary School.
Holloway has directed musicals at the middle school before, including "Once on This Island," "The Wizard of Oz" and "Into the Woods."
With putting together a musical, the sometimes larger cast can provide the challenge of keeping cast members busy during rehearsals while others may be rehearsing.
"The students are really amazing in that they are eager to please and readily listen to directions," Holloway said.
"For the most part while others are rehearsing, they are working on homework and/or snacking and quietly visiting in the hallways."
Holloway said she didn't think there was a major difference between a play production and a musical.
"I love seeing the students 'become' someone other than themselves and feel the power to make the audience see the character and not them," she said. "Whether it is a play or a musical, nothing beats the look and feel of the cast and crew getting everything together for opening night.
"We have great students here at the middle school and I enjoy teaching and watching them grow in the theater."
Tickets for Friday and Saturday's performances are $5 each and are available at the door.