Candlelight vigil held for ill Tonganoxie High School students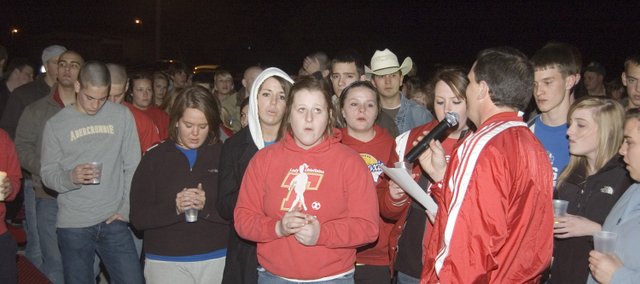 There were a few bald teenagers Wednesday standing outside Tonganoxie High School at the Chieftain Remembrance Walk.
The youths shaved their heads in support of classmate Connor Olson, a junior at Tonganoxie High School who has a form of bone cancer and will begin chemotherapy Friday.
Roughly 200 students and other Tonganoxie residents gathered outside THS for a candlelight vigil in honor of Olson and fellow students Austin Stone and Jake Ostermeyer.
"I can't even begin to explain how much this means to me," said Olson, who attended the event.
While Olson will begin chemotherapy, Stone, a senior, and Ostermeyer, sophomore, also face challenges.
THS principal Jamie Carlisle said Stone was preparing to have his wisdom teeth pulled Monday when he experienced complications. According to a Web site with updates from the family about Stone, the THS student was sent to Lawrence Memorial Hospital when he stopped breathing. A few hours later, he was taken to University of Kansas Hospital. Doctors have lowered Stone's body temperature to help in the healing process, the site said as of a Tuesday posting, and his body temperature would be increased in the next two days. That posting is the latest on the site.
Ostermeyer, meanwhile, will undergo a kidney transplant in June. His mother, Melissa Ostermeyer, will be the donor.
At the vigil, the group sang hymns, said prayers and some of the students spoke about their fellow students.
THS student DJ Lindsay said he wanted to challenge those in attendance to be as brave as Olson and to walk in Stone's shoes, noting that Stone has always pushed him to be better in athletics.
Fellow student Lindsay Fatherly thanked everyone for attending.
"I was sitting at the computer last night and Facebook pretty much did it for me," she said about helping organize the event.