Bulldogs score 30 in sweep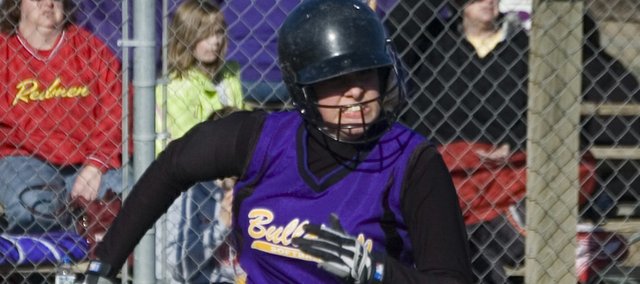 The McLouth High softball team started its 2009 season in style on Friday, making short work of visiting Atchison in a two-game sweep that took just six innings.
The Bulldogs blasted AHS, winning both games, 15-0, after three innings.
Senior Lezley Lawson pitched all six innings for McLouth to pick up her first two wins of the season. After hitting the first AHS batter she faced, Lawson retired the next 18 in six no-hit innings. She struck out seven in the first win and eight of nine batters in the second victory.
In its first inning of what looks to be another strong season, MHS (2-0) scored seven runs. Junior shortstop Missy Rome drove in two with a double to center field, Courtney Stauch knocked in two more for the Bulldogs with a double down the left-field line and Amanda Friesz singled to center, scoring two more runs.
During the double-header the Bulldogs only failed to score in one inning, the bottom of the second in the second win. Up 5-0 in the bottom of the third, though, McLouth put an end to the game with a six-hit,10-run explosion that began with a triple by Rome (her third of the day) and ended with a three-run double from Stauch that dropped between Atchison's left fielder and center fielder.
McLouth is back in action Monday, when the Bulldogs play host to rival Oskaloosa at 4:30 p.m.