Bulldogs nearly impeccable in debut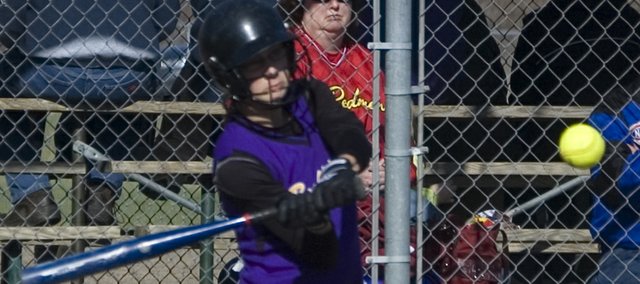 Although the day opened with a mistake, the McLouth High softball team and senior pitcher Lezley Lawson were nearly flawless the rest of the way in their season debut on Friday.
Facing the first Atchison batter of the doubleheader, an inside pitch got away from Lawson and struck the leadoff hitter. But that proved to be the only baserunner for the visitors as the Bulldogs rolled to a pair of three-inning, 15-0 victories.
"I was so geared up and so ready to throw, it just came out of my hand wrong," Lawson said of the miscue.
That was pretty much the only thing that went wrong for MHS or Lawson. The right-hander retired the next 18 AHS batters and picked up her first two wins of the season, allowing no hits and striking out 15 in six innings of work.
With the first game over in a hurry, Lawson started the second in the circle, warm and ready to go.
"It kind of felt like I was in the middle of a game and still going," she said. "It felt good."
In its first inning of what looks to be another strong season, MHS (4-0) scored seven runs. Junior shortstop Missy Rome drove in two with a double to center field, Courtney Stauch knocked in two more for the Bulldogs with a double down the left-field line and Amanda Friesz singled to center, scoring two more runs. Jessie Troupe also scored on Friesz's double after an AHS throwing error.
The big inning set the tone for the sweep but coach Ballard Patterson said he was a little disappointed that the team didn't start even better — by finishing off their opponent early. After seven straight runners scored to open the game, MHS ended the inning when Kendall Patterson flew out and Kaley Patterson was tagged out while attempting to advance to second base following a base on balls. The Pattersons' father and coach, Ballard, said he wants his Bulldogs to finish their opponent when they are backpedaling, citing the team's ability to do so last year against quality teams such as Silver Lake and Holton.
"We have got to finish like that now," the coach said.
To the team's credit, the Bulldogs were able to secure a mercy-rule victory in the first game despite no hits from their first three batters, Kendall Patterson, Kaley Patterson and Lawson, who are used to facing much faster pitching.
In the first win, the rest of the lineup combined to go 9-for-9. Rome, batting fifth, was 3-for-3 with a triple, a double, three RBI and two runs scored. Stauch, batting seventh, scored twice, drove in four and was 2-for-2. Deanna Durkes, Troupe, Friesz and Kaitlyn Sparks each went 1-for-1.
Lawson said it was nice to know the rest of the team had their backs.
"It's not like we're doing it on our own. It's a team effort," she said. "They are there to get the hits if we're not performing."
The top three in the lineup were performing, though, in the second 15-0 drubbing. Kendall Patterson had a pair of base hits and scored twice. Kaley also went 2-for-2, scoring twice and driving in a run. Lawson was 2-for-3 with two doubles, drove in a run and scored twice.
And they still got some help from their teammates. McLouth put an end to the game with a six-hit,10-run explosion in the bottom of the third that began with a triple by Rome (her third of the day) and ended with a three-run double from Stauch that dropped between Atchison's left fielder and center fielder. In the meantime, Durkes crossed the plate twice, Lenzi Mills scored once, Stauch knocked in two with a double to center field, Troupe provided an RBI-single and Sparks scored after hustling out an infield single.
"We had a really good game today," said Stauch, who went 4-for-5 and finished with nine RBI in the twinbill.
McLouth beat Oskaloosa, 6-0 and 15-0, on Monday.