Jeannin signs on for two sports at Ottawa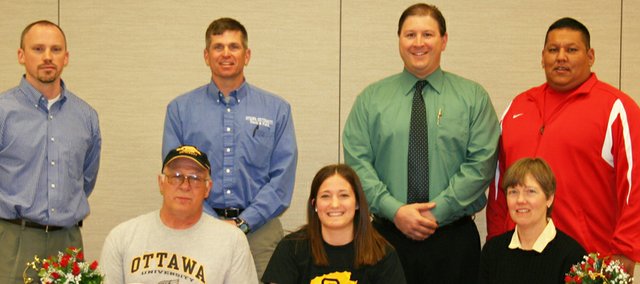 In her four years at Tonganoxie High, Chrissie Jeannin always has stayed active in multiple sports — volleyball in the fall, basketball in the winter, track and field in the spring.
Not much will change next year when she becomes a freshman at Ottawa University. On March 31, Jeannin signed to play volleyball and throw javelin for the Braves.
Jeannin made the decision a couple of months ago.
"It just felt really natural down there," she said of Ottawa.
No surprise there. Not only did Jeannin like the campus and already have a group of friends living there, but her older sister Laura, who is an all-KCAC performer and holds school records for career and single-season digs, finished her senior volleyball year there in the fall.
However, at first, Jeannin wasn't considering Ottawa. Then the school hired a new volleyball coach, Tom Symons. She talked with him a few times, liked the good record he had at his other coaching stops and decided she wanted to play for him because Symons knew what he was doing.
At about that time, Jeannin also was introduced to Ottawa track coach Kirk Wren, and she liked him as well.
"He was all for me coming in and throwing," Jeannin said.
That pretty much did it for Jeannin.
Now she enters her final season of throwing knowing she will be able to keep competing in two of her favorite sports as a collegian. She said she doesn't have a favorite between the two.
"I like volleyball a lot. Jav, it's a little more relaxing," she said. "It's not as high pressure."
The two sports couldn't be more different for Jeannin as an athlete. While success is totally on her with the javelin, she is part of a team and sets people up in volleyball. She doesn't mind the spotlight of the individual sport but really enjoys assisting her volleyball teammates, just as she did as a point guard for Tonganoxie's basketball team.
That's the one sport she won't be able to play at Ottawa.
"I didn't think I would, but since it's been over, I kind of miss it a little bit," she said of basketball.
Still, Jeannin feels prepared for the challenges that lie ahead at the college level. She isn't dreading anything, she said, because Tonganoxie volleyball coaches Brandon and Tiffany Parker have her prepared. They run the Chieftains through the same drills she will see at the collegiate level.
And when volleyball season comes to a close, she will have another sport on which to focus. Just like high school.