New coach has McLouth ready to play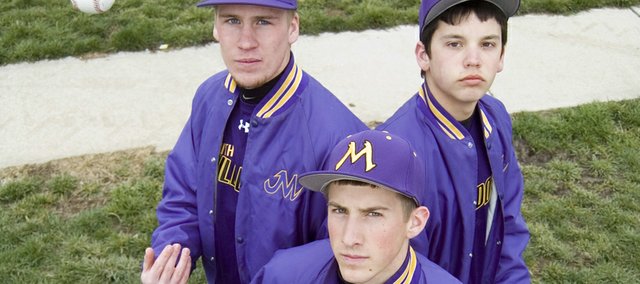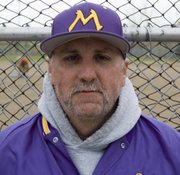 When Kirk Patterson took over the McLouth High baseball program this spring, it didn't take him long to establish a new tone.
The first-year coach made sure baseball would be on his players' minds all day long by starting preseason practices with two-a-days.
Even though Patterson feared practicing at 5:30 a.m. and again at 3:30 p.m. each day would drive some players to quit, that wasn't the case. Instead, the new coach put his willing Bulldogs through helpful, character-building workouts that the players and coach believe will make the team much better than last year, when MHS went 6-13.
After watching his players respond positively to the challenge of two-a-days (players worked on their throwing in the gym each morning and took to the field in the afternoon), Patterson said this team has put in the effort to bring success.
"The biggest thing is the hard work these guys have done," said Patterson, who spent the past three seasons at McLouth as an assistant. "These guys have stepped up and they took the challenge. I don't think there's a whole lot of schools that do what we did this spring."
Senior first baseman Vinny Gonzalez said he and his teammates weren't exactly doing cartwheels about the pre-dawn practices but they embraced them nonetheless.
"It shows that everybody's dedicated to the program," Gonzalez said. "That took a lot of motivation. It'll be worth it once we start winning games. It got our arms ready."
MHS senior pitcher Derrick Crouse agreed, and said the team already has made a ton of progress.
"I honestly think we're much further ahead now than we were halfway through the season last year," Crouse said. "We're on it this year."
The team's No. 1 hurler credited Patterson for making the players better and said the coach's love for the game made even the roughest practices — like the day there was still snow on the ground but the Bulldogs were out in below-freezing temperatures taking grounders off the frozen field — enjoyable.
"He'll push us hard because he knows what we're capable of," Crouse said.
Crouse and Gonzalez look to be two of the team's top players as they will be relied upon for offensive production and pitching — Gonzalez, a lefty, will throw relief. Brad Kabus, too, will play a big part this year, not just at the plate but also at third base and on the mound as the team's second starting pitcher. Center fielder Skyler Terry and shortstop Cody Winborn round out the top half of McLouth's lineup.
If the pitchers can keep the ball low and inside and force MHS opponents to hit it in play, Crouse thinks the Bulldogs could find themselves in the mix among the top Delaware Valley League teams and contend for a regional title.
Patterson said he is excited about his first season as coach but doesn't have any specific expectations.
"I personally don't like to weigh a season on wins and losses. I think we'll get more than people expect us to," he said. "If hard work and heart has anything to do with it, we're going to be very successful."
McLouth was scheduled this past week to play at Atchison County but the games were called off because of wet field conditions.
In their season opener on Friday, the Bulldogs lost to visiting Wellsville, 13-2 and 10-2.
The Bulldogs were swept, 10-0 and 17-1, by visiting Oskaloosa on Monday.