Sidelined captain
Gagne remains a team leader for Tonganoxie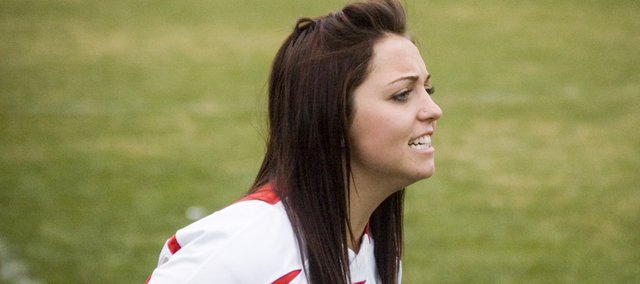 Jordan Gagne knew her schedule would be busy for the next few months with Tonganoxie High girls soccer, but she didn't know this was how her time would be occupied.
Gagne spends her spring afternoons and evenings with the soccer team at the practice field or Chieftain Park, but instead of serving as one of Tonganoxie's top weapons, she is relegated to the role of onlooker, a cheering supporter.
When Gagne tore the meniscus in her right knee this past September, her senior year effectively was shot. She has since undergone two surgeries, the second of which replaced her old meniscus, torn front to back, with one from a cadaver. Gagne is holding out hope that she somehow will be able to return before the season ends in May but that is neither likely nor advisable since the procedure was done just more than two months ago and it generally takes six to nine months for recovery.
Coping with such a personally devastating blow, did Gagne have to come to every practice and optional preseason conditioning workout?
Absolutely not.
But soccer is her passion. She has been playing since she was 4. And she wasn't about to let some injury keep her away from what she loves to do.
Each time the Chieftains (1-2) have taken the field this year, Gagne was there in uniform, shouting words of encouragement to her teammates.
"I love these girls and even though I can't play, I love being there for them," the senior said.
She wants so badly to play that just talking about it nearly brings tears to her eyes. Despite the pain she feels inwardly, Gagne knew she wanted to make as big an impact on this year's team as possible. Sidelined or not.
"I just want to experience it," she said. "Even though I can't fully experience it."
There's at least one segment of her senior year that Gagne will get to savor. She was around so much at practices and so heavily involved with leading the team that her fellow players decided to make her a captain.
"She's just kind of a born leader and she's always really helpful and always cheers us on, even from the sidelines, and tells us what we need to work on," said senior co-captain Addy Phelps, who misses having her longtime running mate beside her.
Tonganoxie coach Ken Lott said Gagne's selfless contributions to this team have impressed him.
"She wants to participate and she knows she's not able to compete like she wants to and being that it's her senior year she still needs that feeling that she's a part of the team, whether she's playing or not," Lott said.
The coach said Gagne is a motivating force for the Chieftains and he could foresee her as a coach down the road. Though Gagne considers herself more cheerleader than teacher, she is glad her teammates have embraced her in her undesired role. And as much as Lott supports what Gagne is doing for the team, he admits her absence from the THS lineup hurts.
"It's hard to replace what she can bring on the field," Lott said, "but we're going to have to make do."