Neighbors
Royce Kitts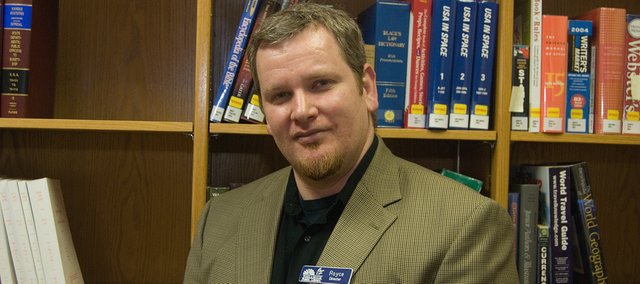 Occupation: Librarian
Family: Wife Miriam, and son Harrison
Place of Birth: Dallas, Texas
Q: When did you move to Tonganoxie, and what brought you here?
I moved here the last weekend in August. The opportunity to take over as the director of the Tonganoxie Public Library was what brought me here. I had been a book van librarian and a reference librarian and was itching to have the chance to see what I could do as a director.
Q: What's the biggest risk you've ever taken?
Probably deciding that after 17 years of being out of college to go back and get a Masters Degree in Library Science. I was working a full time job, a part time job, and had a new son. It was a lot of work for a couple of years, but I am glad I took the chance and that I had the support of my wife throughout that time.
Q: What's the best advice you've ever been given?
I remember my boss at Manhattan Public Library telling me before I left that I was fortunate to be working in a profession where people want you to do a good job, and that people everywhere want a good library. His advice was to make sure I stood up and said what I thought and to always work hard for the library.
Q: What three things would you want people to know about you?
Huge football fan. I have watched this past Superbowl about five times now. The Steelers manage to win each time. I play Madden NFL a lot, and now that I have NFLtv I don't watch any other channel.
My favorite activity outdoors is fishing, as long as the fish leave me alone.
My favorite time is spent around a campfire with my friends.
Q: What did you want to be when you grew up?
I have always wanted to be a writer or a poet. I still write, but not as much as it would take to be considered a writer, and never good enough that someone would think to pay me for it.
Q: What's your ideal vacation spot?
I am a big fan of New Orleans. There is nothing better than taking a stroll through the French Quarter in the early morning, beignets, and checking out the steamboats going up and down the muddy Mississippi River. Plus you have to love a place where you can squeeze in four meals a day.
Favorite things
Song: "Big River" Johnny Cash
Color: Black
Food: Mexican food at El Mezcal