Opening Day
Historic site shows new exhibits Sunday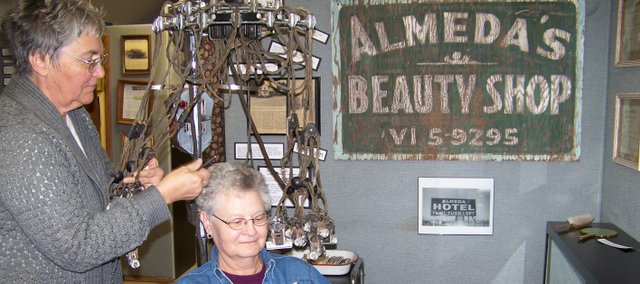 Susy Ross of the Tonganoxie Community Historical Society answers questions about the historic site.
Q: Was Sunday's opening day the first at the Tonganoxie Community Historic Site?
A: Yes, for 2009. On the first Sunday of every April we hold an open house to begin our summer hours.
Q: How many people attended the event?
A: 50.
Q: Are there new exhibits that people can view at the campus?
A: Yes, the Almeda Beauty Shop exhibit features many original items used by Almeda Tinberg when she owned and operated her beauty shop in Tonganoxie. Coming soon will be an exhibit depicting a geological study of our area by Fred Leimkuhler and an exhibit featuring the original printing stone from The Mirror when William Heynen was editor.
Q: Can you talk about the fire truck restoration and, when completed, where it will be displayed?
A: Plans are being made for the 1936 fire truck's debut this summer. Its total restoration is complete. It will be on display in the fire house at the TCHS site.
Q: If anyone missed the opening day festivities, when can they visit the museum, and are there any other special events coming up?
A: We are open from 9 a.m.-noon on Wednesday mornings and from 1- 4 p.m. every Sunday (April-October).
Upcoming events:
• 7 p.m. April 28, TCHS meeting, guest speaker: Jan English, chief of the Wyandotte Nation.
• 7 p.m. May 26, TCHS meeting, guest speaker; Anna Smith, about Deborah Sampson, the only known Revolutionary War soldier who was a woman.
• June 13, Tonganoxie Days quilt shows.
• June 27, annual picnic.
• 7 p.m. July 28, Rip Chords Barbershop Quartet.