Chieftains want 'solid seven'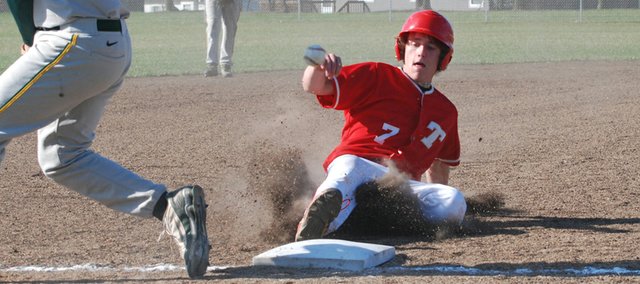 Entering Tuesday, Tonganoxie High's record was 5-0.
The Chieftains had outscored their opponents 47-19.
But coach Phil Loomis says, hold on just a second.
Those numbers don't mean much to the fourth-year THS coach. In its five wins, he pointed out, the team only played "really solid" in one game — a 12-0 victory on April 8 at Basehor-Linwood — and the Chieftains should be doing better than 1-for-5 in the "solid" category.
Tonganoxie opened the season with 2-1 and 10-8 wins at Mill Valley and, because of rainouts, didn't play again until 12 days later, when the Chieftains bested visiting Jeff West 8-7 and 15-3.
"Even in that second game blowout against Jeff West, we still missed some signs and missed some small things we know we're capable of doing," Loomis said.
The victory against the Bobcats was by far the best, and that is the level at which THS needs to remain.
"Against Jeff West, we played two good innings, had a clinker," Loomis explained.
The team's early inconsistencies have led to a new saying, "solid seven." As in, seven solid innings of work is exactly what the coach wants.
Loomis got six solid from senior pitcher Jace Waters against BLHS before the game ended via mercy rule. The right-hander threw six scoreless innings, striking out eight, scattering six hits and walking just three.
"Jace has really started to progress as a pitcher more than a thrower," Loomis said.
As a senior, Waters has developed confidence in his changeup, realizing it is a great weapon.
Of his other hurlers, Loomis has also been pleased with junior Brandon Yoder, who, after a disastrous debut at Mill Valley, responded in his second appearance by throwing four sound innings against JWHS. The team's middle relievers Rob Schlicht and Blaize Oelschlaeger have been solid, too, as has sophomore Dylan Caywood.
The pitching staff has received a lot of help from the plate, where six Chieftains are batting .350 or better.
Yoder leads the way at .529 with 10 RBI and four doubles. Waters hits .375, Tucker Hollingsworth is at .364, Tyler Lupton bats .353 with seven RBI and Ethan Lorance is at .350 on the nose.
A real coup for the Chieftains has been the play of Jon Harris, who entered the THS lineup for a few days in place of injured Schlicht and responded by going 4-for-5 with four RBI this past week.
Loomis said this lineup is a far cry from the one he coached in his first season. Back then, players were afraid to bat with two strikes.
"Now, with two strikes, we're not gonna dribble it to the pitcher, we want to get a hit," Loomis said.
The biggest surprise thus far, the coach said, has been the play of sophomore Dylan Puhr at first base and junior Dylan Caywood at second.
"They kind of give all the mortar to make our bridge hold together," Loomis said.
Going forward, the THS coach wants to see his Chieftains keep progressing.
"We're only one-fourth of the way through the season," Loomis said. "Five games doesn't get us to state, doesn't get us the No. 1 seed in the regionals."
At least they have one really solid outing on which to build.
Tonganoxie plays host to a doubleheader with Piper on Tuesday, and the Chieftains have a 5 p.m. game Wednesday at Bonner Springs.