Signs of life for young
THS

softball squad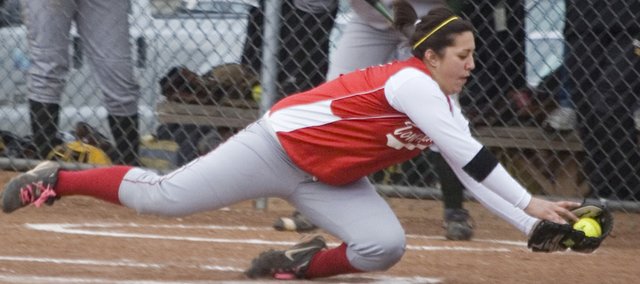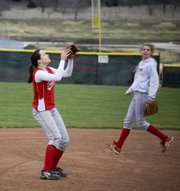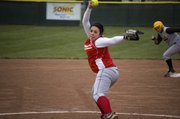 For seven innings of its season opener on Thursday, the Tonganoxie High softball team looked like a club that could do some damage this season.
And although the final score, after eight innings, was 8-2 in favor of visiting Basehor-Linwood, the way the young Chieftains played and battled gave the team hope.
Just four THS players — senior Lauren Himpel, sophomore Kaitlyn Wolken, junior Alisha Barnes and senior Emily Gripka — had significant varsity experience entering the season. But they and the rest of their teammates appear poised to do damage this year.
As long as the newcomers get past the learning curve.
The game was tied at 2 in the sixth inning when some miscommunication on a bunt sign could have put THS in better position to score. Instead, Wolken was stranded in a game that eventually went to extra innings. Tonganoxie coach Diane Titterington said with game experience, the team will get past such miscues.
"Some of that's going to come as the season goes on," she said.
Before the top of the eighth, when BLHS scored six runs, the Chieftains (0-1) battled back and forth with Basehor-Linwood.
Trailing 1-0 in the bottom of the second with two outs, freshman Brooklyn Kerbaugh hustled out an infield single to spark a mini-rally. Gripka kept things alive with a single to left and sophomore Tiffany Jacobs drove in Kerbaugh with a base hit to center that tied the game.
The Chieftains were able to take a brief lead in the third. With one down, Wolken tripled and clean-up hitter Barnes drove her in on a groundout to give Tonganoxie a 2-1 lead.
Wolken, who went 3-for-3 with a walk and a double, said it was good for THS to keep up with Basehor-Linwood for seven innings.
"I think our bats just kind of died a little bit," she said of going scoreless in the final five frames.
Whether the cold or wind on the dark, gray afternoon at Leavenworth County Fairgrounds got to them, Wolken said the team discovered it can hit the ball and the players should learn from the small mistakes that cost them a victory.
"We know where we're at now," she said following the home opener, which came a week later than scheduled because of inclement weather.
Weather also affected what was supposed to be a twinbill against BLHS as thunderstorms washed out the second game before it could begin.
Junior Tonganoxie pitcher Angela Jacobs started what proved to be the only game played Thursday and gave her team seven solid innings of work before tiring some in the eighth and running into trouble.
In her first varsity start, the right-hander repeatedly pitched her way out of jams to keep Tonganoxie in the low-scoring game.
After Jacobs kept BLHS scoreless in the fifth, sixth and seventh innings, Titterington decided to keep her in the game for the eighth even though Jacobs' back had been bothering her as of late.
"I thought she could hang in there," the coach said. "I should have pulled her out just a little bit earlier in the eighth."
Eventually, Nikki Pennington, who had just finished pitching the junior varsity game at an adjacent field, came in with the bases loaded and two outs in the eighth and forced a groundout.
Titterington, after watching her team finally play, said she thinks the Chieftains will be competitive this season.
"We're gonna be right in there," she said.
Tonganoxie was scheduled to play a doubleheader at Piper on Tuesday but it was called off due to wet field conditions. The team's next game is Thursday at Mill Valley.