THS

soccer falls short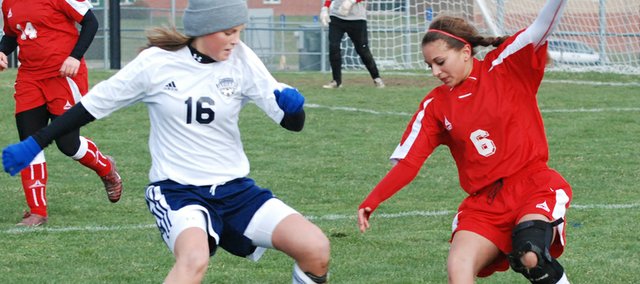 The Tonganoxie High girls soccer team played a tight match at Piper but lost 1-0 on Monday night.
Both the Chieftains and Pirates had some good, attacking runs early but the game remained scoreless at the half.
It wasn't until the 68th minute that Piper scored from 12 yards out by getting a precise shot in between two THS defenders and past goalkeeper Alex Bartels.
Coach Ken Lott said the Chieftains had a number of good scoring opportunities thanks to the efforts of Addy Phelps, Lauren Williams, Shyanne Gergick and Carlea Richert.
Williams, returning from an ankle injury she suffered at Mill Valley last week, had a number of breakaway runs on the outside that were well defended by the Pirates. Lott said PHS had two defenders marking Williams in the second half.
The match was originally scheduled to be played at Chieftain Park but wet field conditions moved it to Piper. With the switch, the Piper contest marked the first of five straight road games for the Chieftains.
Tonganoxie (1-4) travels to Bishop Ward on Tuesday.