Tonganoxie track teams have rousing first week
Chieftain boys first, girls second at Lansing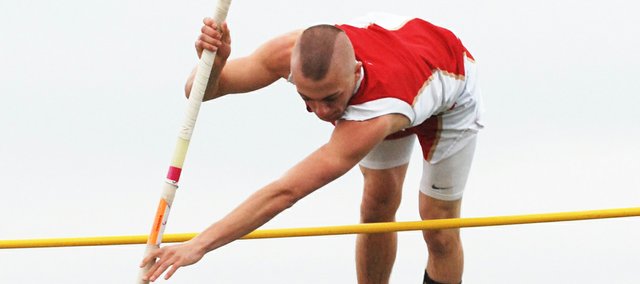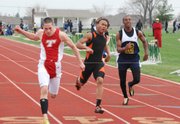 Opening week for Tonganoxie High's track teams didn't go completely as planned but the Chieftains aren't complaining.
Although Thursday's Bobcat Relays track meet was postponed mid-meet, THS opened its 2009 season on April 7 at the Lansing Invitational, where the boys won a team title and the girls finished second.
The season couldn't have started much better for boys coach Phil Williams' team at Lansing.
"We had hoped to do well over there and, honestly, it's not our toughest meet of the season, but we had some really good individual performances," Williams said.
The Chieftains had seven first-place finishers at Lansing and placed in every event.
Pole-vaulter Jake Willis finished first after registering a 13-foot vault, and Williams said the sophomore was about an inch away from setting a new school mark with 13-7 on another attempt. Chieftain sophomore Ian McClellan finished second at 11-6.
THS junior Stephen Wilson won the discus with a throw of 132-5, and the Chieftains won five races on their way to a team title (118 points).
DJ Lindsay opened his junior year with a first-place time of 22.9 in the 200-meter dash. Junior Bret Koch won the 400 with a time of 53.1. Sophomore Jeremy Carlisle was best in the 800, finishing in 2:05.1.
Two THS relay teams were victorious. The 4x400 team of Carlisle, Lindsay, Koch and David Powell took first with a 3:33.6 finish. The 4x800 team — Tommy Heskett, Powell, Joel Dunning and Caleb Himpel — won its race in 9:07.
Williams said the most pleasant surprise of the opening week was the long-distance running of freshman Matt Briggs, who was second in the mile at Lansing and matched that feat at Basehor-Linwood on Thursday before the meet was postponed (it will be completed April 28).
Girls 2nd at Lansing
Tonganoxie girls track coach Chris Weller said even though the Chieftains had won at Lansing in previous years, second place was a great start for this team, which lost some talented seniors from last year's squad.
"I'm really happy with the way the whole team came through," Weller said. "We had some great performances, a lot of people stepped up."
The Chieftains won six events at Lansing and the THS throwers led the way.
Not only did senior Chrissie Jeannin win the javelin, but two Chieftain teammates, Roni Grizzle and Danielle Miller, finished right behind her at second and third.
Grizzle had the winning heave in the shot put and younger sister Dominique finished third.
However, sophomore Dominique bested her senior sister in the discus as Dominique took first and Roni was runner-up.
Roni said the Tonganoxie throwers feel like they can jump-start the team with a successful afternoon.
"We're always out there early, so we know that we need to start off with a bang," she said.
"We need to have everything go well so everyone who's running and stuff knows that they have the points coming and they have a little cushion, so they can relax when they run."
Dannie Oelschlaeger won another field event for THS by finishing first in the pole vault.
On the track, Tonganoxie's 4x800 team of Andie Jeannin, Megan Puhr, Sagan Scates and Lauren Hall took first place, which Weller was happy to see.
"We were really worried about filling a few holes and by adding Hall and Scates, I think by the end of the season we're going to be pretty much there where we ended last year," Weller said.
The Chieftains' other event winner was freshman Emma Slater, who won the 300-meter hurdles at her first prep track meet.
"Her form is really amazing for a freshman who hasn't really worked that much on hurdles," Weller said.
At 3:30 p.m. Thursday, the Chieftains will play host to the Tonganoxie Invitational.
Lansing Invitational
Girls
Team standings
1. Lansing, 166; 2. Tonganoxie, 118; 3. Piper, 109; 4. Pleasant Ridge, 53; 5. Atchison, 30; 6. Immaculata, 28; 7. Basehor-Linwood, 11.
Tonganoxie results (times and distances not available)
4x800 relay — 1. Andie Jeannin, Megan Puhr, Sagan Scates, Lauren Hall
100-meter hurdles — 2. Emma Slater
Pole vault — 1. Dannie Oelschlaeger, 4. Kenzie Caude
Javelin — 1. Chrissie Jeannin, 2. Roni Grizzle, 3. Danielle Miller
Shot put — 1. Roni Grizzle, 3. Dominique Grizzle, 6. Makayla Sample
Discus — 1. Dominique Grizzle, 2. Roni Grizzle, 5. Danielle Miller
4x100 relay — 4. Andie Jeannin, Megan Puhr, Cristina Rubio, Sagan Scates
400 meters — 5. Madi Yates
300-meter hurdles — 1. Emma Slater
800 meters — 6. Lindsey Cox
4x400 relay — 2. Andie Jeannin, Megan Puhr, Sagan Scates, Cristina Rubio
Boys
Team standings
1. Tonganoxie, 166; 2. Lansing, 82; 3. Piper, 79; 4. Atchison, 74; 5. Pleasant Ridge 73; 6. Immaculata, 57; 7. Basehor-Linwood, 15.
Tonganoxie results
Javelin — 2. Shawn Roberts, 143-6; 5. Jeremy Elliott, 135-5; 6. Reece Hollingsworth, 135
High jump — 3. Dylan Jacobs, 5-10; 4. Austin Smith, 5-8
4x800 relay — 1. Tommy Heskett, David Powell, Joel Dunning, Caleb Himpel, 9:07
110-meter hurdles — 2. Austin Smith, 18.1
Pole vault — 1. Jake Willis, 13; 2. Ian McClellan, 11-6; 5. Cody Martin, 9-6
100 meters — 2. DJ Lindsay, 11.2
Shot put — 4. Stephen Wilson, 36-9
Discus — 1. Stephen Wilson, 132-5; 6. Bryson Hewins, 98-3
Triple jump — 2. Dylan Scates, 39-5
4x100 relay — 2. Jeremy Carlisle, DJ Lindsay, Bret Koch, David Powell, 44.3
1600 meters — 2. Matthew Briggs, 4:55.1
400 meters — 1. Bret Koch, 53.1
300-meter hurdles — 3. Jamison Bloomer, 45.9
800 meters — 1. Jeremy Carlisle, 2:05.1
200 meters — 1. DJ Lindsay, 22.9
3200 meters — 2. Joel Dunning, 12:02; 5. Ben Field, 12:31
4x400 relay — 1. Jeremy Carlisle, DJ Lindsay, Bret Koch, David Powell, 3:33.6
Long jump — 6. Dylan Scates, 18-3