Kill the
DJ

wins comedy tourney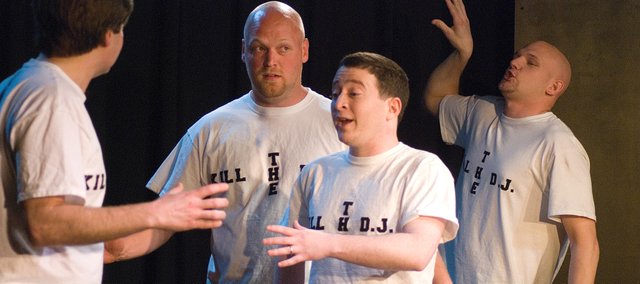 After three rounds of improvised comedy, the three final teams competed Saturday night in the match to see who would be crowned the champion of the Improv Thunderdome and earn a cash prize.
The team Babel Fish, which used audience suggestions to improvise a movie, won third place, leaving the teams of two Tonganoxie High School graduates vying for the top prize.
On one corner was Garrett Kelly, Kansas University junior and 2006 Tonganoxie High School grad, with his group Those People, which is comprised of other KU students, Alex Nichols and Doug Altman, Overland Park sophomores, Amy Virginia Buchanan, Stillwater, Okla., senior, Spencer Lott, Lawrence junior, and JT Nagle, Osawatomie sophomore.
In the other corner was Benjamin Brest's group Kill the DJ, which is comprised of Jeremy Alexander, Jonathan Bender and Charley Belle. Brest is a 2004 THS grad and is now working on a business degree at KU.
After a slight voting irregularity where a section of audience didn't initially get their votes counted, emcee Ed Doris announced Kill the DJ was season three's winner.
"It's definitely a rush," said Brest after the show. "I knew it was going to come down to the wire between Those People and us."
Brest said that he wasn't feeling very confident in his team's performance because it hadn't gone as well as some of their rehearsals.
Kill the DJ got $660 for winning the competition.
Kelly said he was disappointed his team didn't win, but was happy with the way they competed throughout the season, especially since the team was so young and new.
"I though we had a really good set," Kelly said. "I think everyone had a good time and it seemed like a lot of people were laughing. It was good exposure for us and we all felt like it was overall a very successful night."
Those People won $330 for second place.
Brest can be seen performing in a free show with Stitch Tactics at 7 p.m. on May 2 in the Alderson Auditorium at the Kansas Union, 1301 Jayhawk Blvd., Lawrence.
Those People will be playing at 8 p.m., April 22, at The Granada, 1020 Massachusetts St., Lawrence, for an all-ages show. Tickets will be $5.