Neighbors: JoAnn Ferguson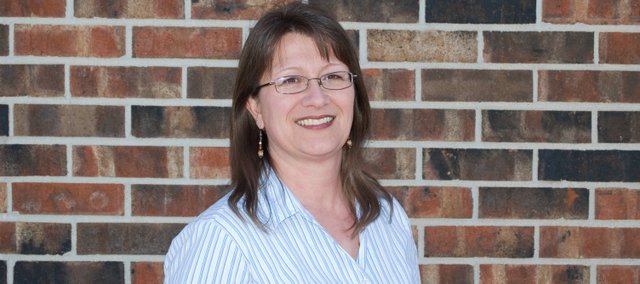 Occupation: Bank teller at First State Bank & Trust downtown
Family: husband, Johnnie; son Josh and family, Alexa, Morgan, Randy, Chloe, and Isabel; daughter Jaimie Ferguson and her late son, Champ, and Jaimie's fiancée, Ryan Lee and daughter Mya; daughter Jill Gering and family, Jerry, Jaidra, and Rocco, with a third child due in July; daughter Julia Holt and family, Courtney, Cordell, Cortez, and Julia's first baby due in November.
Place of birth: Jamesport, Mo.
Q: When did you move to Tonganoxie, and what brought you here?
A: We made the career move here in 1990 when our children were in second, fourth, and ninth grades with a junior in high school.
Q: What's the biggest risk you've ever taken?
A: Agreeing to go on our 4,000-mile motorcycle trip last summer, and that risk turned out to be one of the biggest blessings of my life.
Q: What's the best piece of advice you've ever been given?
A: If "it" has no eternal significance it isn't worth fighting over. My mom told me to use people's names regardless of their age because it lets them know they are significant to you.
Q: What three things would you want people to know about you?
A: 1. The most important things in my life are relationships: first with my Lord and Savior Jesus Christ, second with my husband and family, and also very important to me are others. I am very fortunate and thankful to live in Tonganoxie and be in a job where I get to visit with many wonderful and different people each week. 2. Although it is not something anyone would want to hear, I love to sing, and in the past few years, while riding as a passenger on the motorcycle, God blessed me with tunes and lyrics that have been a great inspiration and comfort to me in tough times. 3. Also, I am not really overweight. I, like Garfield, am under tall.
Q: What did you want to be when you grew up?
A: Career aspirations: A band director, missionary, or physical therapist. Being the oldest of four siblings, from a very early age I wanted to be a mom.
Q: What's your ideal vacation spot?
A: Most any less inhabited area of the United States on the back of the motorcycle with my husband. I am a bit of a creation freak.
Favorite things
Song: I love music and could never pick just one; however, I really like "Edelweiss" from "The Sound of Music" and many songs from groups like Casting Crowns and contemporary Christian artists.
Color: The whole rainbow but particularly colors like pink and purple
Food: Cheesecake, seafood, pulled pork (I like about everything).