Preliminary budget plans discussed
Assistant superintendent seeks 'balanced approach' during uncertain times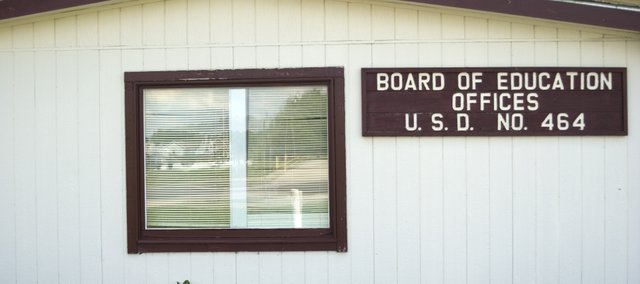 The Tonganoxie School District's 2009-10 budget planning was at the forefront of Monday's school board meeting.
Assistant superintendent Kyle Hayden discussed what budget issues the district is facing for the upcoming year.
He noted the district is facing about a $180,000 reduction in state aid for per pupil funding, as well as $630,000 in new facilities funding, both of which are part of the general fund.
The $180,000 is an estimate as to what the Legislature is expecting to cut in student funding, although a specific number likely will be hammered out by next month.
The $630,000 is new facilities funding that the district had received each of the last two years when it opened Tonganoxie Middle School and made improvements to the elementary and high schools. That funding is discontinued after two years, so this is the first year the district will not have that funding.
In addition, the district is expected to lose $250,000 in its local option budget because of the loss in its general fund. In total, Hayden anticipates $806,000 in loss of budget authority.
Hayden also noted the cash balances have decreased by more than $800,000 during the last three years because more money is being spent than generated, and transfers to special funds have increased 52 percent because of increased expenditures and falling balances.
In Hayden's proposed budget, he looks to reduce payroll by $550,000-$600,000, reduce operational costs by $200,000, increase the local-option budget by $15,000 and increase the capital outlay by 3 mills, from 4 to 7, which would account for $250,000.
Fee increases, in such areas as meals, transportation, textbooks, activities and kindergarten, are expected to provide $275,000 in revenue.
"USD 464 should take a balanced approach," Hayden said, noting there should be accountability from the board and administration in pursuing that goal.
He also said some of that burden would need to be put on the taxpayers and patrons.
"But not all of that can reasonably go one place or the other," Hayden said.
Board members asked that Hayden also evaluate other fees, such as those for out-of-district students attending district schools.
The assistant superintendent also will continue to look at busing fees for students who live within a 2.5-mile radius of the schools.
"I am for doing the busing," board member Kathy Baragary said about the bus transportation fees. "I think that's totally fair to have people within the 2-mile radius ride the bus. It's a privilege; they should pay for that."
Superintendent Richard Erickson noted earlier in the meeting that the district is seeing an increase in revenue in its food department. Erickson said a change in pricing has helped, as students who go back for seconds now are charged more for that additional food.
"As you know, our kids at the high school eat well and like to have seconds and they're spending money," Erickson said.
Shortening the school year
Students will start summer break a bit earlier.
Hayden suggested that moving the last day of school would save the district about $6,500 in pay for transportation, food service and para-professional staff each day. Overall, he said it would save about $25,000.
With only two of seven built-in inclement weather days used, Hayden proposed the cost-cutting measure.
The last day of school for students will now be May 19 and it will be a full day instead of a half-day. Teacher workdays will now be May 20 and 21.
The change wouldn't affect teacher contracts, Hayden said.
"In a year when we're not going to give a lot, it may be a good gesture to go ahead and go home," Hayden said about teachers being able to end the school year a bit earlier.
The board approved the measure, pending approval from the Tonganoxie Education Association.
Hires, resignations, retirements
The board approved the hirings of these teachers at Monday's meeting: Michael Morgan, middle school math; Ryan Scott, middle school physical education (5-8); Lynn Franey, fifth-grade teacher; Erin Bates, sixth-grade technology; Joasey Eastes, seventh-grade social studies; Shelly Hunter, sixth grade language arts; and Tracy Waldeier, high school science.
Resignations were approved at the meeting also. Resignations were: Pam Lamb, high school dance coach; Steve Murdie, high school science teacher; Jamie Mullins, elementary school food service employee; Ginger Lobb, kindergarten teacher; and Kathrine Ussery, kindergarten teacher.
And at the meeting, three employees' retirements were accepted: Carrie Johnson, food service employee; Mary Newell, eighth-grade math; and Janet Perry, elementary school librarian.
Contracts for all current certified employees also were approved for 2009-10.
Technology bids approved
The board approved bids for the summer technology project, which is the purchase of several computers, as well as printers and other equipment.
The board approved bids for the equipment, which will be funded through a lease/purchase agreement with First State Bank and Trust for $237,94. It is a four-year lease, at 4.11 percent.
Pavement project on horizon
Asphalt repairs will take place throughout the district.
The board approved the district proceeding with bid procurements for summer crack repair, asphalt replacement and overlay projects.
Cost estimates are between $70,000 and $80,000.
Board member Leana Leslie said she thought widening the access road from Main Street to the high school should be discussed in future planning.
Assistant superintendent Kyle Hayden said he thought costs for such a project would be "astronomical" because of the overlay expenses with widening the road, and they would need to deal with ditches that exist on both sides.