Sample sampler
Director wants residents to see Concordia's festival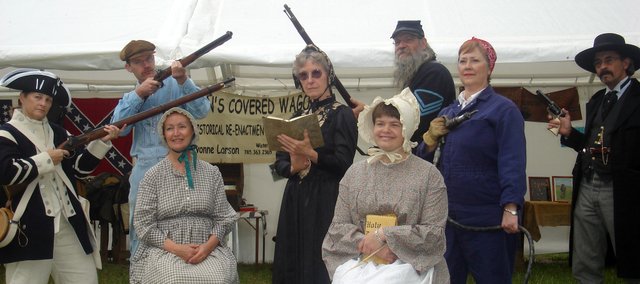 Keyta Kelly, 2010 and 2011 Kansas Sampler Festival Director.
Q: Where and when will this year's festival take place?
A: The 20th annual Kansas Sampler Festival will take place in Concordia, Kansas (Cloud County) May 2-3, 2009 at the Concordia City Park — Saturday, May 2 from 10 a.m.-5 p.m. and Sunday, May 3 from 10 a.m.-4 p.m.
Q: What will people be able to see and do at this year's festival?
A: It's all Kansas, all weekend. The festival is designed to provide the public a sample of what there is to see, do, hear, taste, learn and buy in Kansas. In addition to helping the public plan Kansas day trips and learn about Kansas offerings, the festival will also showcase Kansas musicians, historic performers, and Kansas foods. Kansas products will be sold in the Kansas Mercantile tent and in some other tents.
Q: How can county residents sign up for the charter bus to the festival and how much will it cost?
A: Leavenworth County has chartered a 56-passenger bus to take residents to Concordia for the Kansas Sampler Festival on Saturday, May 2. The cost of the outing is $25, which includes the bus fare and the entrance fee to the festival. Lunch will be on your own at one of the many food vendors at the festival. Please contact me at (913) 417-7575 or kssamplerfestlvco@sunflower.com to sign up to ride the bus. We still have 40-plus seats available.
Q: Who will be in charge of the Leavenworth County booth?
A: Laura Phillippi, site supervisor of the Lansing Historical Museum, has designed the booth and will be at the festival to oversee the booth all weekend. Several volunteers are needed to help Laura man the booth. Those that have already volunteered are: Bob and Jan Topping, Leavenworth; Tony Baker, Leavenworth; Laura Elkins, Leavenworth; Mary Ward, Leavenworth; Patty Hagg, Tonganoxie; Blake Waters, Tonganoxie, Lana and David Howe, Tonganoxie; Frank Kukuk and Scotty Brezgiel, Jarbalo; Michael, Keyta and Rachel Kelly, Jarbalo; and Carolyn Burton, Kansas City, Mo. More volunteers are still needed.
Q: What can people do if they want to volunteer for the Leavenworth County booth?
A: People will be asked to promote Leavenworth County by engaging visitors in a conversation about what there is to see and do in Leavenworth County. There will be fliers from all of the area museums and attractions to hand out.