Tonganoxie soccer wins one, loses one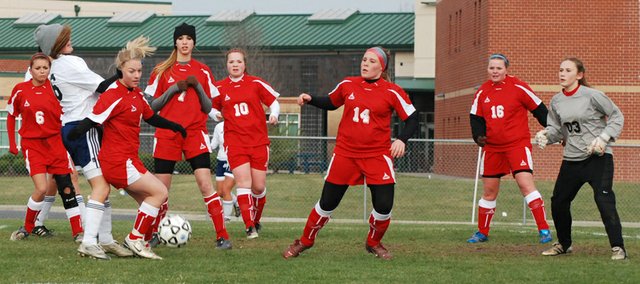 The Tonganoxie High girls soccer team lost on the road but won at home this past week.
A day after a 7-0 Thursday loss at Gardner-Edgerton, the Chieftains bounced back with a 2-1 victory over Spring Hill on Friday.
The Tonganoxie attack was able to fire a lot of shots on goal and put two in the back of the net in the first half thanks to what THS coach Ken Lott called the team's "Williams connection."
Junior Lauren Williams and freshman Sarah Williams each scored a goal for Tonganoxie at Chieftain Park. Sarah's score was the first of her varsity career.
Spring Hill was only able to get one goal past THS sophomore goalkeeper Alex Bartels.
The Chieftains (3-5) played much better at home than they did in the 7-0 loss a day earlier.
Lott said his team didn't have its best effort in the first half, when Gardner-Edgerton scored five goals.
But he said the second half was much better and the Chieftains had several opportunities to score.
The THS defense and Bartels improved their play in the second half as well. Due to constant pressure and no wide-open looks, the Tonganoxie defense made GEHS earn its two second-half goals.