Close friends don't want to forget what Elliott meant to them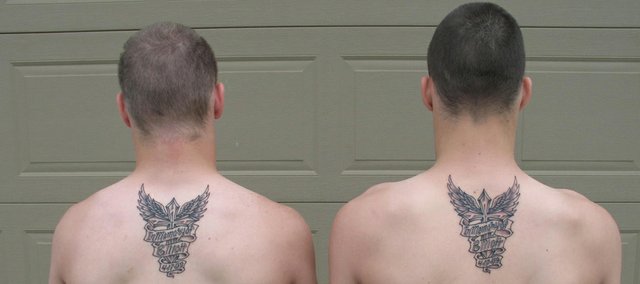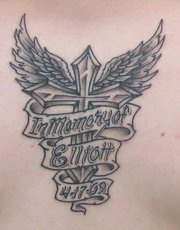 April 17 is a day Tonganoxie High juniors Zach Kaighin and Jeremie Maus never will forget.
The horrible news they received that morning made sure of that.
Earlier that day, in his sleep, their buddy Jeremy Elliott, a fellow THS junior, had died from a heart condition.
Elliott, Kaighin and Maus did everything together. Football, wrestling, fishing, you name it.
They were supposed to go to prom as part of a large group Saturday.
Instead, Kaighin and Maus reluctantly went without their best friend hours after helping Elliott's mother, Lisa, choose the pallbearers for his Tuesday funeral.
Just a few days after Elliott's death, his two childhood friends — Kaighin has known Elliott since pre-school, Maus met him through wrestling in the seventh grade — still were in denial.
"It's indescribable, man," Kaighin said Sunday morning inside Maus' home as the two reflected on the loss of a friend they described as an ultimate optimist, a brother, a perfect sidekick.
"He always laughed at every one of my jokes," Maus said, "even if it was stupid."
It was the kind of friendship the two cohorts wanted to hold on to, and, at Maus' behest, the two got matching tattoos on their backs that read, "In Memory of Elliott, 4-17-09," with a cross and wings as a backdrop. They said it was a way to remember Elliott, and a way to cope.
Although the day, in its rawest form, was devastating, Elliott's friends have made sure they will always remember the emotions that came along with losing such a dear friend.
"It kind of helped me give peace to it," Maus said. "Now I know I'll always have a piece of him with me."
Kaighin needed and wanted the reminder.
"You just keep him with you every day," he said of the tattoo's purpose.
The three already had plans for this summer: noodling, setting up trout lines with Elliott's father, Rex, as they had last year. Kaighin said those plans would be kept.
"It's not going to be the same though," he admitted.
It is memories like those that inspired the tattoos. Memories Elliott's friends will cling to forever.
"One of those mornings," Maus said, "you're going to wake up and look back there when you're 98 years old like, 'Yeah, he's still with me.'"