Council honors outgoing councilmember Gumm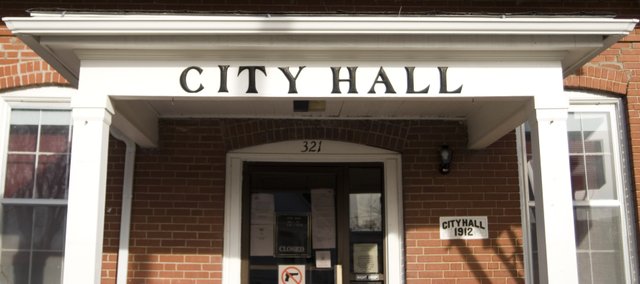 After eight years of devoting his time and effort to the city of Tonganoxie, Steve Gumm took his seat inside the Tonganoxie City Council Chambers for the last time.
He said that the city has seen substantial growth while he has been in office and was happy to be a part of the council that helped complete the new waste water treatment plant, the new public works building, the Tonganoxie Water Park, a new water line to connect with the Board of Public Utilities and the development of County Road 1.
"I have a lot or respect for the city staff and employees," Gumm said. "I have enjoyed working with all the departments. Because they were willing to go beyond the call of duty, we were able to complete projects that other cities would have had to hire outside contractors to do. Thus, we were able to stretch city dollars to accomplish more things. I am extremely happy to see that our city council will continue to be a positive, forward-thinking group. I will miss working on some projects, but will enjoy spending the extra time at home."
After swearing in the newly elected councilmember Burdel Welsh, and re-elected councilmembers Jim Truesdell and Jason Ward, the council unanimously passed a resolution expressing the city's thanks and gratitude for Gumm's commitment to excellence and service to the city over his two-terms.
Additionally, Ward gave Gumm a plaque in recognition of his service in office.
"Councilman Gumm's eight years on council is evidence of his strong commitment to improving the city of Tonganoxie and the lives of its citizens," Ward said. "He donated countless hours of his time to the attendance of meetings and various government functions for the benefit of our community. I applaud his efforts and all those that join in our goal of building a better tomorrow."
Gumm told The Mirror earlier in the year that he did not want to seek a third term because he wanted to spend more time with his family.
If there was one thing that did bother Gumm during his time in office, it might have been his bad luck with the chair he sat on during the meetings.
"Steve had terrible luck with chairs for council meetings. We went through several models in his tenure and somehow he always found the lemon," Ward said. "I know that he was quite happy to pass on his defective council chair to Burdel."
County Road 1
During the meeting, Ward updated the council on the progress it has been making with the Leavenworth Board of County Commissioners.
For several weeks, draft copies of the interlocal agreements between the two government entities have been volleyed back and forth as both parties try to reach an agreement for how County Road 1 will be developed and who will pay for the road.
Ward and council member Paula Crook have been a part of the interlocal group that has been negotiating with the Leavenworth Board of County Commissioners on who will control certain parts of development.
The city had been negotiating to have a large stretch of the road be developed to city standards in the case of annexation, but the county negotiators did not agree with that stance. In the latest form of the agreement, County Road 1 will be developed to city standards just to what the county has determined to be its Urban Growth Management area, which is just north of Metro Avenue.
• Unanimously allowed a Tonganoxie Christian Church youth group to adopt a section of road between Main Street and Leavenworth County Road 5. The city agreed to put up signs indicating that stretch of road had been adopted and get trash bags for the youths.
• Heard a report from Brian Kingsley of BG Consultants, the city's engineering firm, about the 2009 construction project summary. In the report Kingsley said the design and engineering for the intersection improvements at U.S. Highway 24-40 and Main Street were 99 percent complete with a possible bid letting date of May 22. The improvements along Fourth Street were 99 percent designed and engineered and a bid date of July 1 was tentatively set with the condemnation proceedings concluding on May 29. The design and engineering for a new interceptor sewer and improvements on Second and Cox streets are complete and the bids for the project have already been let. Improvement work on East Street from Fourth to Seventh streets are about 60 percent complete with an estimated bid letting of Sept. 1. The council also unanimously approved entering into an agreement to perform construction observation services for the interceptor sewer.
• Unanimously agreed to let Tonganoxie Mayor Mike Vestal and Kathy Bard, assistant city administrator, sign an amendment to an agreement between the city and the Kansas Department of Transportation for reimbursement of funds related to the Safe Routes to School Program.
• Unanimously approved to purchase a 2009 Ford F-450 with utility bed from Danny Zeck Ford in Leavenworth in an amount not to exceed $2,000 form the capital improvement fund. The $43,133 truck will be paid out of two funds. $41,317 from the equipment reserve fund and the remainder from the capital improvement fund. Bard said some of the money will be recouped when surplus equipment is sold at auction.
• Unanimously approved the expenditure of an amount not to exceed $3,500 to replace a split rail fence located at Centennial Park.
• Entered into a 10-minute executive session with Tonganoxie Police Chief Kenny Carpenter, City Administrator Mike Yanez, City Attorney Mike Kelly and Bard for the purpose of discussing non-elected personnel. No action was taken after the executive session.
• Unanimously approved the hiring of Russ Moore as a full-time police officer effective April 26.
• Unanimously authorized the purchase of 12 fire hydrants from Mainline Supply Company in the amount of $16,978. Yanez said a dozen of the city's hydrants were in serious need of replacement and this expense was not budgeted for, but "quite frankly we really don't have a choice."
• Unanimously authorized the request for proposal to move a house it owns at 626 East Third Street. The house and land were purchased for $127,500 in the hopes that the area would become part of a new city hall or future retail space. Because nothing has been done with the property, the city would like someone to purchase the house and move it to a new location. Yanez said the 1,666 square foot, three-bedroom, two and a half bath structure is in good shape.