Honoring Jeremy
Town bids
THS

junior farewell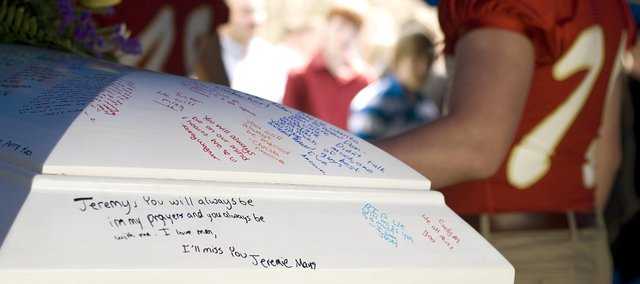 Jeremy Elliott's smile could brighten the world of someone having a bad day, he could laugh at his own joke so hard that it made others laugh and he could even snarf down a pound of bacon in "three minutes flat."
Those were a few memories told during Elliott's funeral Tuesday, as roughly 780 attended services for the Tonganoxie High School junior at the Tonganoxie Christian Church Family Life Center gymnasium. Elliott, at the age of 17, died in his sleep Thursday night from a heart condition.
On Tuesday, with an overflow of family and friends, teachers, coaches and classmates, some of whom had to stand, Rev. Dirk Scates officiated at the service, telling those in attendance how special a youth Elliott was.
"And I don't mean it like we say everybody's a good kid," Scates said. "He's really a good kid."
Scates told of how a person's life can't be fully explained in an obituary. He shared that Elliott's recipe for turtle soup couldn't be found in an obituary, nor could memories of Elliott on the football field. For instance, if Elliott were knocked down by an opposing player, one could see his fellow teammates pull him back up.
Scates talked about Jeremy's relationship with his father, Rex Elliott.
"They spent so much time together they started to look alike," Scates said.
The minister also said Rex looked forward to the father-son wrestling matches that the Tonganoxie High School wrestling team, for which Jeremy competed, held for its members and their fathers.
Scates joked that Rex was working out so much at Unlimited Fitness in preparation for the match that they needed to change the name to Elliott Unlimited. He paused and then said that name was taken, referring to the family's current business.
Also during the service, Scates mentioned a time when Jeremy lost his Facebook password and had to get a new one. He gave the password to his mother because there was nothing on his page he was ashamed to share with her, Scates said.
Jeremy hadn't been feeling well Thursday night, but told his mother if he still didn't feel better in the morning, they would go to the doctor, Scates said at Tuesday's service.
That would be the final time Lisa told her son she loved him and he replied, "I know, Mom, I love you too," Scates shared at Tuesday's service.
Near the end of the service, Scates discussed what he thought was a sign from above. There was a green arrow Jeremy had used while hunting that he never could find. While taking out the trash one day, something caught Rex's eye.
It was that green arrow that Jeremy had looked for.
"That which was lost was found," Scates said.
People filed out of their seats and paid their final respects to Jeremy, extending their condolences to the family and then bidding Jeremy farewell, his white ash coffin covered with messages friends and family had written with markers.
THS principal Jamie Carlisle led some of the songs during the service, while John Putthoff performed "Come to Jesus."
Pallbearers were Jeremie Maus, Zach Kaighin, Dylan Young, Daniel Holton, Dane Gonser, Devon Botts, Richie Ridihalgh and Ben Myers.
Honorary Pallbearer was Connor Olson.
Olson, also a junior, has been taking chemotherapy because, earlier this year, he was diagnosed with bone cancer.
Jeremy Elliott had attended a recent candlelight vigil for Olson, as well as THS senior Austin Stone and sophomore Jake Ostermeyer, who, like Olson, have been battling health issues.
During Monday's visitation services, Olson helped present Jeremy's family with Boy Scout pins as part of the Court of Honor and Eagle Scout ceremony.
Like Olson, Jeremy Elliott was heavily involved and was set to earn Eagle Scout distinction.
Scout leader Bobby Kissinger said paperwork for the ceremony was finalized Monday morning. At the last minute, it was included in the visitation service.
Kissinger described Elliott, saying "like any other boy, he was ornery" growing up. But added Elliott "would do anything for you; he was a hard worker."
More than 30 scouts and leaders were on hand for the ceremony.
On Tuesday, people filed out of the Family Life Center gymnasium and on to Hubbel Hill Cemetery for burial.
Friends and family gathered a final time at the cemetery to bid Elliott farewell.
An obituary for Elliott appears on page 2. Coverage in this week's edition continues with a column on page 6, a story about Elliott's friends on page 9 and a story on Elliott winning the javelin at Thursday's Tonganoxie Invitational track meet on page 19.
Go to tonganoxiemirror.com for a photo gallery and more.