Vintage Park gets ready for May opening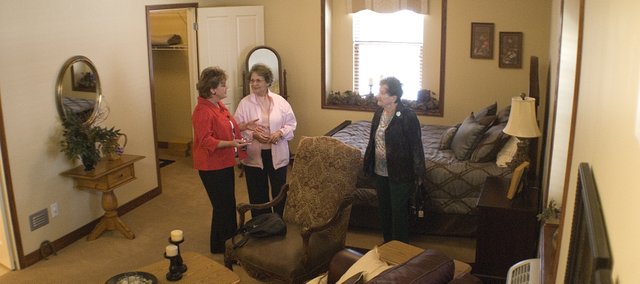 Since the official groundbreaking ceremony in June of 2008 for Vintage Park, crews have been working diligently to complete the 41-unit retirement community.
And now Tonganoxie's newest business is just days away from its May 1 opening.
Rosanna Smith, regional director for sales and marketing for Skilled Healthcare, said despite the slow economy, they've already pre-rented about a third of their units.
"We've got approximately 30 percent of the building pre-rented. Twenty-five to 30 is really good in this market right now."
Smith said when the group opened Vintage Park two years ago in Ottawa, it had half of the units pre-rented that they did in Tonganoxie.
So far Smith said the calls have been coming from Tonganoxie and the surrounding cities such as Basehor, Eudora and Lawrence. She has even gotten some calls from interested people in the Kansas City area.
"It's nice to see that we are not only meeting the needs from Tonganoxie, but the surrounding area," Smith said.
The facility is licensed to house 48 total residents and Smith expects it to be completely booked in nine months.
Smith said the facility lets residents rent the units month-to-month without having any long term commitments.
The rent includes three meals a day with housekeeping, laundry, assisted dressing and bathing if needed, medication administration and a 24-hour nursing staff.
Other amenities include a fitness center, beauty shop, a therapeutic spa and a cinema room as well as easy access to those rooms.
Smith said around $70,000 in landscaping has been spent to make the outdoors pleasant for the residents and so the residents can have picnics or barbeques.
The new facility also means about 23 to 25 new jobs in Tonganoxie.
While most of the positions are for trained nurses, a few positions such as housekeeper, dietary manager, cook, activity director and part-time maintenance person, do not require any specific licensing.
"My phone has been ringing off the hook with people looking for jobs," Smith said. "We tried to hire as much as possible from the local area."
She said that most of the positions have already been filled and training has already begun.
Vintage Park will be having its official Open House and ribbon cutting ceremony from 3 to 6 p.m. May 21.
Smith said the CEO from Skilled Healthcare will be attending, as well as the directors from the 18 other Vintage Parks in Kansas.