Walkabout
City moves forward with safe walking, biking program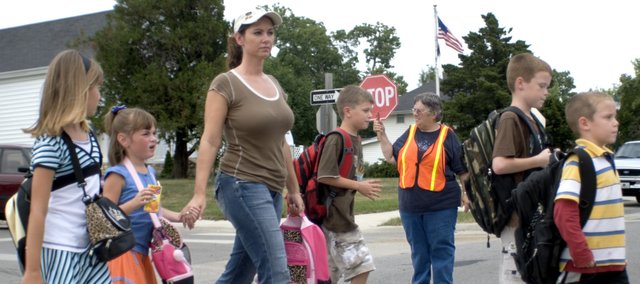 In December the Kansas Department of Transportation announced it would be giving the City of Tonganoxie $250,000 to implement a Safe Routes to School program. Since then, the city has contracted with Bridging the Gap to help facilitate the program and educate the public. Sadie Gardner works with BTG and will be helping out at 6 p.m. today for the SRTS program open house in council chambers.
Q: Is it important that kids learn to walk and bike to school?
A: The habit of walking to school is in decline in our present generation. As it has declined, obesity and related negative health consequences have grown. The most important reason for children to walk is the positive impact on their health.
Q: Why is it important that the community gets involved with this program?
A: Successful Safe Routes to School programs that result in long term increase in numbers of kids regularly walking only happen with the support of schools, parents, government and police. Parents must feel that the eyes of the community are on the kids, keeping them safe.
Q: What is your timeline to implement the program?
A: Bridging The Gap will be working on education and encouragement with Tonganoxie parents, police, and kids for the next year as new sidewalks are built by the city.
Q: How successful has it been in other communities?
A: In Columbia, Mo., hundreds of students are regularly walking to school with caring adults after four years of program development by the PedNet Coalition. Safe Routes to School was funded with $600 million in the SAFETEA-LU transportation bill in 2005 and work is going on presently to reauthorize SRTS in the next Transportation bill being developed this year by Congress.
Q:What will people find out at Wednesday's meeting?
A: Bridging The Gap will present a draft schedule for education and encouragement to increase walking to school using the five Es of the SRTS approach. We will outline the goals of increased health, improved air quality,less traffic around school, and improving kids' connections with each other and the community.