TMS

students learn efficiency with Trane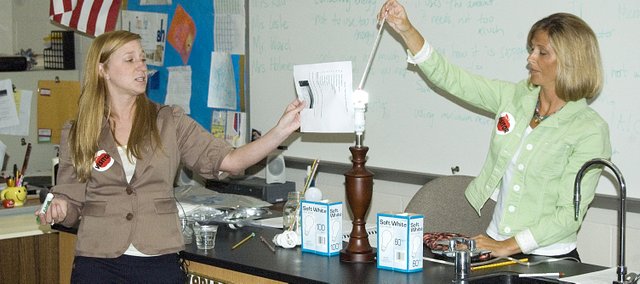 A recent Tonganoxie Middle School class experiment pitted the florescent light bulb against its incandescent counterpart.
The winner, as far as energy efficiency, was the florescent bulb. A thermometer was held to each of the incandescent light bulbs for one minute, as the 60-watt and 100-watt bulbs reached temperatures of 131 and 124 degrees Fahrenheit respectively. The florescent lights, at 13 and 26 watts, reached 79 and 84.2 degrees respectively.
The experiment took place in the second week of a six-week course in which 160 TMS sixth-graders are involved. Employees from Trane, in Lenexa, are leading the course during weekly classes with the students.
In January, the Tonganoxie School Board approved a $2.1 million energy performance contract with Trane. When summer break begins in late May, the company will overhaul the district's buildings to make them more energy efficient. The district expects to save $200,000 annually through the efficiency plan.
In conjunction with the project, the company offers energy efficiency courses.
The recent class also focused on insulation, as students put hot water in containers with varying insulation to show the importance of insulation in keeping heat energy contained.
Keven Ward, education facilities coordinator for Trane, said the coursework helps students learn about careers in science, technology, engineering and math.
After two weeks, he said students are grasping the material.
"The first class is the baseline," he said. "It's very participatory. They were remembering things from the first class and bringing it to this class, which is what you want."
In the coming weeks, the class will hear from various people in energy and engineering fields and will perform an energy audit of the middle school. Erin Rau, a Trane sales engineer who also is teaching the course, said students also would write to their legislators about what they've learned regarding energy efficiency.
TMS science instructor Michael Bush told students the middle school already is making changes in energy conservation. For instance, he said lights in the commons area and hallways previously were turned on when custodians arrived at the school in the early morning. Now, those lights don't come on until just before students start to arrive.
"This is absolutely wonderful," Bush said about the course. "This fits in well with what's going on (with national discussion of energy conservation)."