Jenkins to deliver
GOP

radio address Saturday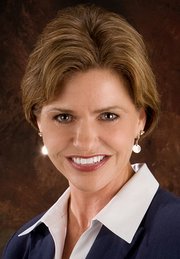 U.S. Rep. Lynn Jenkins, R-Kansas, will deliver the weekly Republican radio address on Saturday.
Jenkins, whose district includes Leavenworth County, will speak on Washington's spending habits, the debt being piled on the next generation and the need for bipartisan cooperation going forward.
Audio and video of her address will be available on her Web site on Saturday.