Chieftains coach up young counterparts at football camp
Photo Gallery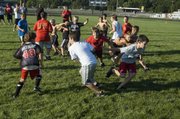 Tonganoxie High youth football camp
Roughly 75 players — from fourth through eighth grades — took part in Tonganoxie High youth football camp this past wee at Beatty Field.
Most of the time, Tonganoxie High football players are on the receiving end of coaching — getting barked at, reprimanded and (when they impress) praised.
This past week, some of them got to see the game from a different perspective as they assisted the THS staff in coaching roughly 75 youth campers the evenings of July 28-30.
Although they didn't display the anger or saltiness a varsity coach might utilize on occasion, Chieftains such as Dylan Faulconer, Austen Holloway, Justin Jacobs and Jeremie Maus were there each night of the youth camp to impart some knowledge and, perhaps more importantly, serve as role models to the fourth- through eighth-graders.
"The little kids, they idolize those older kids," Tonganoxie coach Mark Elston said. "We want them to be a major part of our future and we feel that's the best way to accomplish that."
The camp gives the youths a chance to be around the Chieftains and learn a little about the THS program at an early age.
"They look up to us because it's a small-town football team," Faulconer said.
And when they go home, they can tell their friends they've been hanging out with varsity players. Plus, they learn a lot about the game.
On Thursday evening as Faulconer and Jacobs drew up an offensive play for the fourth- and fifth-graders during a scrimmage, they tried to tell a back to look for a pass behind the line of scrimmage and a camper asked: "Oh, you mean a screen?"
"They know more than we do about this stuff," Faulconer joked.
The beauty of having players coach, Elston said, is that they, too, can learn from it.
"It gives them a new perspective on the things that we've been telling them for years and years and years that doesn't always sink in the first or second time," Elston said with a laugh.
Teaching the campers also gives the players a sense of ownership with the program and a chance to lead.
Holloway said his coaching duties could help him improve his leadership skills. He and his teammates were charged with the task of keeping the kids under control, which can be tough when they're acting "goofy."
But a little lightheartedness and fun was no problem as far as Elston was concerned.
"Most importantly, we want the kids to enjoy their football experience and look forward to playing at the high school level," the 10th-year THS coach said.
Added Faulconer: "We're just trying to have fun with the kids."
Even the real THS coaches get a kick out of the youth camp. Elston said he and his staff not only want to promote the game but also get a sneak peek at the classes of players coming up through the ranks. It allows the coaches to see what kind of adjustments might need to be made in the future and the players learn the THS program terminology. THS coaches have already discussed projected rosters two or three years down the road.
"What's really the most fun is the next year when they come to the camp and seeing how far they've advanced," Elston said. "Some of those kids you don't even recognize from year to year."
Holloway said the THS players enjoy it, too.
"To see what's going on with the little kids' program is really fun for us," Holloway said. "They look like they're having a lot of fun out there. Some of them have a little bit of speed."
In fact, from time to time the older Chieftains found themselves jumping up and down like the campers after an exciting play, letting the youths know they are a part of the THS program.
"It's pretty important," Faulconer said of camp. "They're our future."