Post 41 makes history before bowing out at state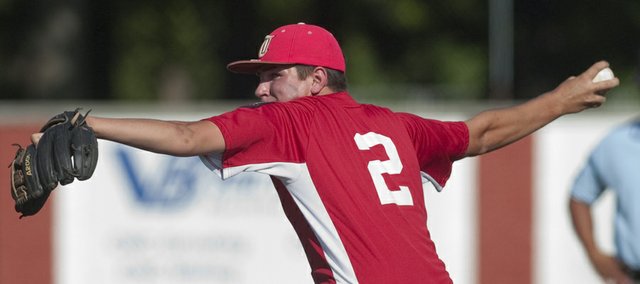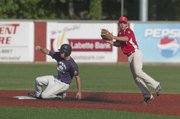 It wasn't a storybook ending, but Tonganoxie's Post 41 American Legion baseball team made history this past week.
Tonganoxie played in the Kansas AAA Legion tournament for the very first time Wednesday, July 29 through Friday at JayCee Ballpark in Pittsburg.
After pulling off a 4-3 victory against Atchison in the first round, Post 41 was pounded by the Lawrence Raiders, 24-2, in the second round of the double-elimination tournament Thursday evening and was eliminated from the consolation bracket Friday morning with a 21-2 loss to Newton.
But a disappointing finish to an otherwise successful season didn't make Post 41 coach Pat Bailey think any less of his team. The lopsided losses that ended the season were to talented teams and Bailey said Tonganoxie's coaches and players knew they would be facing college-level talent at the state level.
"They kept their heads up, kept playing hard, we were out-muscled a little bit," the coach said with a chuckle.
Spending three days nearly 140 miles away from home with a lot of down time, Post 41's players entertained themselves with Nintendo Wii or Xbox 360 in their hotel rooms, took in some sun and swimming, visited the mall and movie theater and even did some sight-seeing in Pittsburg. But Bailey said the players likely won't ever forget the 23 innings of baseball they played at JayCee Ballpark.
"It was a good experience for them," the sixth-year Post 41 coach said.
2009 was a highly successful campaign for Tonganoxie. Not only did the club win a Post 23 League championship, but it also finished the season 21-12 and made team history with a state berth.
"I kind of knew early on in the season we had a chance to make a run at the league title," Bailey said. "I can't really say that I saw state coming but that just shows the boys' character and their heart. They just never said die."
The depth and talent of Post 41's batting lineup was the team's biggest strength. Outs weren't easy for Tonganoxie opponents to find, especially in league and zone play. By the end of the season, there were no holes from the leadoff spot to No. 9 in the order — starting with Brett Bailes, Corey Klinkenburg and Blaize Oelschlaeger, continuing with Grant Ebbert, Jeremy Wagner and Mark Stewart and finishing with Jacob Stauch, Ryan Stockman and Kyle Newton. The lineup was so good AJ Gilbert had to come off the pine and he often produced when inserted to a game.
Various players often wondered why their names were printed at the bottom of the lineup card when they had a solid batting average.
"Somebody's gotta be down there," Bailey would tell them.
Not only was the roster crowded with hit producers, Bailey said it also featured a slew of leaders. Asked who was the most vocal, the coach pointed to everyone.
"It was pretty much a group effort," Bailey said. "If somebody wasn't doing it, someone else was."
Tonganoxie's coach, who missed a few games while recuperating from kidney surgery in July, said the squad's best characteristic was its heart. Bailey recalled watching the Post 23 League championship game as a spectator and witnessing the club's comeback from two late-inning deficits. Post 41 scored two with two outs in the bottom of the seventh for a 9-8 victory against Easton in the league final. A little more than a week later, Tonganoxie plated two in the bottom of the ninth for a 4-3 victory in team's first game at the state tournament.
"They just kept coming back," Bailey said.
And they will be coming back next season, too. The best news about this history-making team might be that next year's lineup will look nearly identical. Only Stockman will be too old to play in 2010. Even players who have a year of college behind them — Ebbert and Stewart — will be eligible.