Yates misses out on match play tourney
163 not low enough for
THS

sophomore to make cut at Kansas Amateur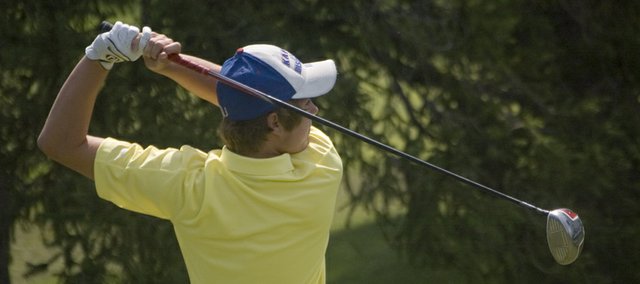 Photo Gallery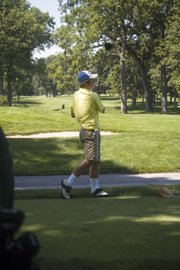 Colby Yates competes at Kansas Amateur Match Play Championship
Colby Yates, a sophomore at Tonganoxie High, competed at the Kansas Amateur Match Play Championship in Mission Hills this week. Yates had to play 36 holes of stroke play July 28-29 to qualify for the match-play tournament at the Kansas City Country Club.
Mission Hills — With some high ankle socks on his feet and his Chieftains coach by his side as a caddy, Tonganoxie High sophomore golfer Colby Yates embarked on the Kansas City Country Club this past week hoping to prove he was one of the state's top amateurs.
The sock length was one of the club's quirky requirements but that hardly had the same effect on Yates' play as first-round weather and some second-round swing issues at the 99th Kansas Amateur Championship.
The 15-year-old Yates missed the cut for the single-elimination match-play tournament by 12 strokes after compiling a score of 163 — 84 on July 28 and 79 on July 29 — in two rounds of qualifying stroke play.
The first round was marred with constant rain — not a torrential downpour, but enough to affect play.
"It was actually pretty fun, but it was tough," Yates said.
Like many golfers who had to play through the rain, Yates said if he had been out for a leisurely round in his spare time, he would have stopped and waited for the weather to improve. But the players weren't afforded that luxury and Yates couldn't help but notice the result.
"I didn't feel like you could take too much time because you were getting wet and your grip, your club would start to slip out of your hand," he said.
However, the weather did a 180 for the second round. It was a picturesque sunny day with a high of 80 and Yates knocked five strokes off his score.
"It was a lot easier playing conditions," Yates said. "I didn't play bad but I didn't really take advantage of the good weather."
As the THS golfer critiqued himself, he said he was disappointed in the start and finish of his second round. With a double-bogey on No. 1 and three bogeys on the last five, Yates played better on the middle holes, picking up four straight pars on the seventh through 10th.
Additionally, Yates thought he struck the ball better in the first round while combating nature.
"I was probably a little more focused in the rain," he said, "because I knew I had to hit a good shot to even have a chance."
THS coach Jared Jackson, who served as Yates' caddy at the championship, said he had never seen Yates struggle as much with his swing as he did in the second round.
"He shot a 79 on a tough course, fighting his swing a little bit," Jackson said. "I thought that was really impressive."
Caddy coaching
Yates said he was happy to have his coach there — not only to clean his clubs and rake the sand but also to help him out of a jam.
Just two holes into the championship, Yates already was 4-over and playing hurried. Basically, he was freaking out in a setting where calm nerves are crucial. Jackson reminded him there were 34 holes left to play.
"He told me to take a couple breaths and slow down," Yates said, "and it actually helped 'cause instead of blowing up big-time, I kind of didn't make too much damage and ended up coming back."
On the next seven holes, Yates played 2-over golf.
Jackson was just glad to be somewhat helpful. The coach said acting as Yates' caddy involved a different level of coaching, far more in-depth than a high school tournament, when he is monitoring the progress of six players and only communicates occasionally. At K.C. Country Club, Jackson was available for Yates the entire time and was thereby better able to understand what the golfer was thinking each and every step of the 6,762-yard course and diagnose any problems.
"It's pretty neat," Jackson said. "I wish I had an opportunity to do that with every kid because it really helps you understand their game a lot better."
'Tough course'
Although he was slightly disappointed in how the championship played out, Yates said it was a good experience and he had fun at Mission Hills.
"It was a tough course," he said. "You had to keep it in the fairway the whole time or you really didn't have a chance to play good."
Jackson said the K.C. Country Club might have been the most difficult course Yates has played this year because of its length. On many holes, Yates would tee off with his driver and hit long irons into greens, whereas during the THS season, he usually went driver and wedge. Hitting a five iron onto the green is a much different shot, Jackson pointed out, adding that the wet course played even longer in the first round.
Had Yates finished with one of the top 64 scores in stroke play, he would have gained some much desired match play experience. He said he has always wanted to play in the mano-a-mano format.
But Jackson said Yates shouldn't feel bad about missing out.
"The top 64 amateur golfers in Kansas," Jackson said, "that's pretty good company right there."
Leawood's Matt Ewald held off Dodge Kemmer of Wichita, 7-and-5, to win the Kansas Amateur on Sunday.