The best entry for McLouth family at the fair? A horse, of course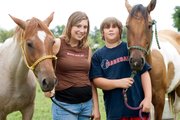 Horses will be the main name of the game for two rural McLouth kids at this year's Leavenworth County Fair.
Ashley Williams will be using Sheba, her 3-year-old quarter horse, to win some ribbons. For weeks, Ashley has been preparing for the fair and soon she will be making sure Sheba is looking her best. She doesn't mind spending this much time because she loves the animals with which she works.
"(Horses) actually understand you," she said. "They are actually a fun animal to hang around and take care of."
When she is not grooming the horses, Ashley loves to spend time training for barrel races.
"I like the way the wind rushes through my hair," she said.
Brandon Williams will be using his 3-year-old quarter horse, Dallas, at the fair. This is the first year he will be competing in a riding competition at the annual event.
"Hopefully I'll win a ribbon from it," he said.
Jennie Williams, the children's mother, said it didn't take Brandon long to realize that he just wanted to enter the riding competitions and now the showmanship.
He took the halter classes for practice, but that's when he realized he didn't want to do the halter classes.
"Walking with the horse and doing that stuff, it just wasn't for him," Jennie said.
Brandon will also be entering pigs in the fair.
He has won trophies in the past and won reserve champion for prospect pigs last year. During the spring fair, his pigs were underweight, but he's been fattening up this year and he said they will be ready by the time the fair rolls around.