Fair board president eyes repeat visitors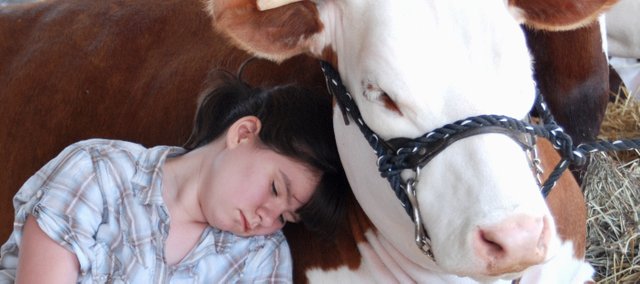 Leavenworth County Fair organizers hope to have a little help from their Wyandotte County friends after renting out their fairgrounds to the neighboring county.
The Wyandotte County Fair took place this past month at the Leavenworth County Fairgrounds. The Kansas City, Kan., fairgrounds were relinquished to make room for the massive Schlitterbahn water park. For the last two years, Wyandotte County's fair had taken place at the Woodlands racetrack. But the fair ran into problems with its temporary home as it still works to secure a permanent location.
Enter help from the west in Leavenworth County.
The fair boards for the respective counties reached an agreement to have the fair at the Leavenworth County Fairgrounds in Tonganoxie.
Though the Wyandotte County Fair didn't have a carnival and some of the other bells and whistles of a traditional fair, exhibits were displayed. As Leavenworth County fair board president David Todd said, it was a chance for Wyandotte County 4-H'ers and other participants to enter their work and animals in a county fair and the opportunity to advance to the Kansas State Fair.
"The No. 1 reason we did it was to help the 4-H'ers out in Wyandotte County," Todd said.
The two fair boards agreed to a contract of $2,000 or the cost of utilities, whichever was higher.
Todd hopes Wyandotte County fairgoers make a return trip next week for the Leavenworth County Fair.
With charging a nominal fee, Todd said he hopes folks from Wyandotte County checked out the Tonganoxie fairgrounds and are making plans to come back for the Leavenworth County version.
"Our thought is these folks will come from Wyandotte County to see the kids show their 4-H projects," Todd said. "And they'll think, 'Wow, look at these facilities. This is a pretty nice place. We should come back in a couple weeks and see what their fair looks like.'"
For 2008, with gas prices hovering around $4 and many people re-evaluating summer travel plans, many appeared to take advantage of local entertainment. And more agreeable temperatures didn't hurt either, Todd said.
"Last year, I think we had record crowds because of the weather being as good as it was," Todd said. "The price of gas was really high, so I don't think anyone went anywhere. People just stayed put.
"School was right around the corner and people went to the county fair."
As far as this year's fair, Todd said it's hard to determine right now how the sputtering economy will affect the Leavenworth County Fair.
He did note that the number of livestock entries is up from last year, but he also said pre-entries aren't always indicative, as some are no-shows once the fair actually takes place.
And, as Todd pointed out, especially when times are tough, it can be hard to budget for certain entries in the fair.
"If you look at your livestock, it costs a lot of money to feed the animals all summer," Todd explained. "I don't know if the economy has affected that at all or what."