Green-thumbed couple cultivating memorial garden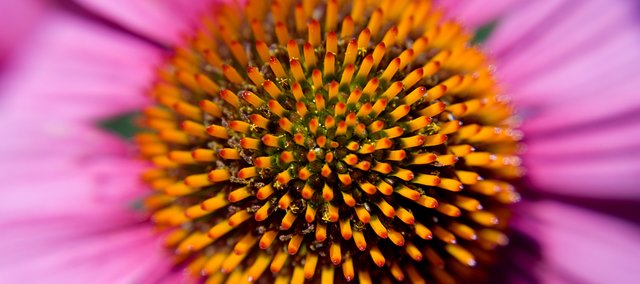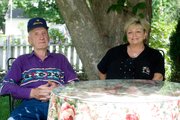 Connie Anderson lost three loved ones within a short span of time. Her brother died Dec. 27, 2006; her mother April 10, 2007; and then her father on Sept. 27, 2007.
So to pay tribute to those family members, she incorporated memorials to them through something she and her husband, John, also hold dear to their hearts — gardening.
The Andersons, who live on the southwest corner of Pennsylvania and Grand streets in Leavenworth, have amassed a flowing flower garden in their yard of several types of flowers, trees and shrubs. Recently, they purchased a vacant lot to the west.
There, three arches are positioned along a white picket fence that ties in with fencing that borders the Andersons' original property, on which sits their 1883 farmhouse. The arches are positioned amidst a bevy of marigolds, purple salvia, cornflowers and hollyhocks, to name a few. Earlier in the year, the Andersons' property was bursting with blooming roses. Connie said she had the arches put along the picket fence for something different — it wasn't just a plain picket fence.
"After my mom unfortunately passed away unexpectedly, I said, you know, it would be really neat to do a memorial garden," Connie said. "And we've had two more pass in our family so it's a nice memorial to our family, but to many of our friends also."
Photo Gallery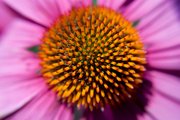 Leavenworth Gardening
Connie spoke more about her mother.
"She loved flowers and she loved roses," Connie said. "We thought it would be a nice extension of our existing English garden, so we're in phase one."
John is the inspiration for the English garden. After all, he originally is from Alnwick, which is in northern England near the Scottish borders. John, who is retired from British special forces, met Connie through a mutual law enforcement friend and married in 1988. Connie has worked for about 23 years with the Leavenworth County Sheriff's Office. In 1991, the couple moved into their 126-year-old home.
An English garden has meandering pathways made of pebbles. The same holds true for the garden the Andersons have built up near their house.
And it eventually will be the same for the memorial garden that Connie mentioned. Already in the garden are a few arbors, which eventually will be connected with pebble walkways as well.
The purpose of the pebbles? So folks can keep their bare feet dry while walking through their flower gardens.
Another important aspect of their English garden is those aforementioned hollyhocks.
"You don't have an English garden if you don't have hollyhocks," Connie said.
The memorial garden currently has flowers around a picket fence border, but their garden will continue to grow. As John puts it, Connie draws up the layout and he puts the diagram in motion. Of course, both love working in the garden. It provides a certain therapy. They adore their gardens, especially now with the prospects of a special memorial garden for loved ones.
Others adore their garden as well. Passersby and tour groups that are visiting Leavenworth have been known to make a stop at the Andersons' place.
"I always invite my guests to pull weeds and take them with them if you like," Connie said with a big smile.
Yet still others have a special love for the flowers as well — deer.
The animals come from an open field and wooded area to the west of the Andersons' property. Yes, the dining deer have forced John and Connie to alter their plants of choice somewhat, but they still have a special place in their hearts reserved for their "neighbors." There's an area of fence where John and Connie won't plant flowers so as to have an unobstructed view of the deer playing in the nearby open fields.
Along with the deer, bees have taken a liking to the Leavenworth couple's flowers as well. And throughout their property, one can see several birdhouses dotting the landscape. John likes to point out some martins inhabiting one of the martin houses he's built.
Their landscaped property, with its share of trees, including a magnolia tree, also has been the focus of magazines. The garden has been featured in Midwest Living magazine and has been photographed in Romantic Country magazine.
This month, their place was recognized with a yard award from the Leavenworth Chamber of Commerce women's division beautification committee.
June is the best time of year to see the most flowers in bloom, but as Connie pointed out, flowers flourish during different times of the year, so it's hard to pick a favorite viewing time.
Regardless of the month, one can be sure the Andersons' will be tending to their flower gardens. And now, they'll be tending to them with thoughts of loved ones who have passed.