Pray family streamlining this year's county fair activities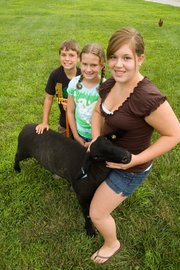 In the past the Pray family children of Tonganoxie have dabbled in just about every category 4-H has to offer.
Whether it was Hannah, 13, trying out everything from knitting to archery, Abigail, 10, working on crochet or Drake, 9, figuring out horticulture, it was safe to say the Prays had a lot on their 4-H plate.
With so many things to worry about and work on in preparation for the annual Leavenworth County Fair, this year the Prays streamlined things.
When the fair kicks off next week, Drake, Abigail and Hannah — all members of the Happy Helpers — will be focusing on cooking, market livestock and possibly gardening (if their planted products turn out).
As the oldest of the siblings, Hannah was the first to get involved in 4-H. At the time she was 8 and the Prays lived in Jefferson County. It was then that Hannah became interested in lambs. She isn't around them a lot, but cares for them in spring and summer each year in preparation for the fair.
Although her mother, Pam, joked that Hannah likes to show them more than she likes taking care of them, Hannah said she has to work with the market lambs and be around them a lot for the animals to be comfortable with her when it's time for the show.
"When it comes fair time, it's a lot of fun," Hannah said.
That wasn't always the case. When she was younger and just getting started, Hannah wasn't wise to the things that would impress a judge — such as making sure the lamb's posture is correct — and she was simply much physically smaller than a 140-pound lamb. Now that Hannah is older, the lamb isn't handling her but vice versa.
Upon Abigail's introduction into 4-H, she became enamored with a different animal. For her, swine was a good fit.
"I don't know how I got started with pigs — just an interesting animal," Abigail said.
Although she admitted they smell bad, she said she likes their tails because they convey what kind of mood the swine is in.
"If it's curly and kind of wagging, they're happy," Abigail said, "and if it's straight, they're mad or sad."
Pigs have easily become her favorite animal — especially at fair time.
"I really enjoy showing them when they're not running around the pin," Abigail said with a grin.
Showing market swine has also become Drake's favorite fair activity. He likes spending time with them and getting to know them. Drake said he is becoming more accustomed to handling pigs and keeping them in line as he gets older. This year, he has two — named Jack and Jacob — that he will show.
As the Prays prepare their livestock for show, they will also be coming up with different goods for cooking competition.
"Usually we try to make different things every year," said Hannah, whose chocolate chip cookies have earned her purple ribbons in the past.
At recent fairs, Abigail has made toffee and once was named reserve grand champion for her spumoni cake, which used different flavors and food coloring to create multiple colors.
"I was really proud of that cake," she said with a giggle. "It had a rainbow inside it."
As for Drake, he would like to re-enter a past success this year.
"Hopefully, I'm making the same thing I did last year because I got the pink ribbon (grand reserve champion)," Drake said of his trail mix, which featured caramel, Chex and a variety of nuts.
By concentrating on market livestock and some baking, the Prays are hoping this year's fair will bring them even more ribbons.