School days back again
District prepares for new enrollment system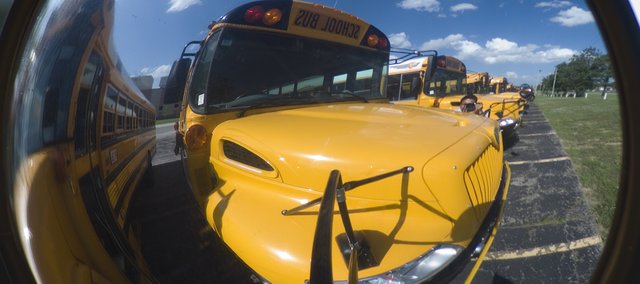 Kyle Hayden, Tonganoxie Schools superintendent, discusses enrollment for the 2009-10 school year.
Q: What does the first year of the centralized enrollment system entail?
A: The first two days of K-12 enrollment, Thursday and Friday, will be held in one location, the Tonganoxie High School Chieftain Room, with extended hours to accommodate working parents. Enrollment will also be available Monday and Tuesday in the individual buildings.
Q: Why is the district switching to the centralized enrollment?
A: Many of our parents have children who attend multiple attendance centers. Our goal in adding the centralized enrollment process is to be customer-friendly to our parents and to improve the communications process. Our hope is parents will find enrolling all of the children in one location to be a much easier process as they will have access to all building administration and staff along with district coordinators and secretaries. This will save them time and energy and hopefully they can leave with all of their questions answered and feeling good about the start of the school year.
Q: Will there be other school-related items that can be taken care of at the centralized enrollment?
A: Yes. There will be principals, counselors, nurses, and secretaries present from all buildings along with representatives from the transportation and food service departments available to assist with information as needed.
Q: What should parents do if they can't attend the scheduled enrollment dates?
A: Our preference would be that all of our families attend one of the four scheduled enrollment dates as this assists with finalizing our school organizational plans. If they are unable to make it to one of the available dates they should contact the offices where their children attend and set up a time to enroll prior to starting school on August 18.
Q: Any advice for a smoother enrollment process?
A: All of the necessary enrollment forms are available online and may be completed prior to enrollment. This would definitely assist them and our staff in creating a smooth and timely process. Please visit the district Web site at www.tong464.org. We are looking forward to seeing all of you within the next week.