Threshing bee president prepares for annual event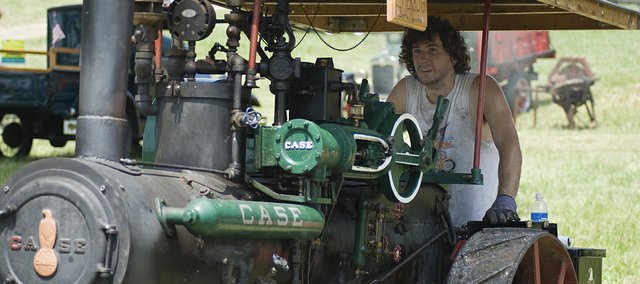 It's not a stretch to say Gary Royer has been involved in the McLouth Threshing Bee pretty much all of his life.
Royer, the current president of the annual festival, was born in 1966 and said he's attended the bee pretty much every year since he was about 2 or 3.
He and other threshing bee organizers are preparing for this year's edition, a continuation of a tradition that started in 1957.
This year's McLouth Threshing Bee will take place Friday and Saturday on the threshing bee grounds in the Jefferson County town.
The event will kick off this year with the antique and classic tractor ride premiere benefit for the Cystic Fibrosis Foundation at 7 p.m. on Friday. Jeremy Nichols will perform at a patio dance that will start at 8 p.m.
Saturday activities begin with steam threshing at 10 a.m. and 2 p.m., as well as a parade of power at 1:30 p.m.
An ATV pull is set to begin at 1 p.m., while the drive-in car show and kids pedal tractor pull is at 5 p.m. It is open to ages 3-12.
Live bands are scheduled for 6 p.m. and 9 p.m. County Road 5 will start performing at 6 p.m. and Cubby Lane will begin at 9 p.m. at the main track stage.
Admission is $5 and coolers may be brought to the grounds for $5. Glass bottles are not allowed.
Royer said he hopes for a strong turnout this year. The threshing bee traditionally is a three-day event, but it's been scaled back this year after a tough weekend in 2008.
"We tried to shave some expenses because last year the 104-degree weather didn't help and the fuel prices held a lot of people in," Royer said. "But we don't have anything scheduled for Sunday."
The tractor pull is a big draw, but Royer said there are other events to check out both days with threshing, saw mill and blacksmith demonstrations.
"I hope we have some people show up," Royer said. "I think there will be a lot of stuff for people to see."